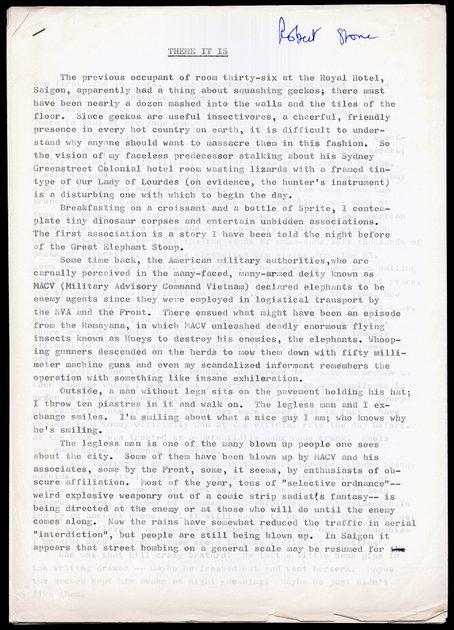 STONE, Robert
Carbon Typescript of "There It Is"
(n.p.), (n.p.), [ca. 1971]. 11-page carbon typescript with some holograph emendations, of an article which was published in
The Guardian
in the U.K. in 1971 and never published elsewhere.
The Guardian
gave Stone his press credentials and paid for his trip to Vietnam, and this is the only nonfiction he wrote about what he encountered there. After he returned from Vietnam, his next novel, his second overall, was
Dog Soldiers
, about a reporter and a Vietnam vet smuggling heroin back to the U.S. from Southeast Asia.
Dog Soldiers
won the National Book Award and was made into the acclaimed Nicholas Roeg film, "Who'll Stop the Rain?" Several of the anecdotes in this article were lifted and inserted directly into the novel, and the overall tone -- mordant humor in the face of grim misery -- is also shared by the book. No manuscript copy of this piece was in the Robert Stone archive when it was sold to the New York Public Library, nor in any of the updates that have been sold since. A key item in Stone's overall body of work. Stone won the National Book Award once and was a finalist five times, putting him in a very small category of writers that includes such figures as John Updike, Saul Bellow, and Vladimir Nabokov. Slight edge wear to the pages; overall very good.
Signed by Stone
. Unique.
[#032828]
SOLD
All books are first printings of first editions or first American editions unless otherwise noted.
See more items by STONE, Robert