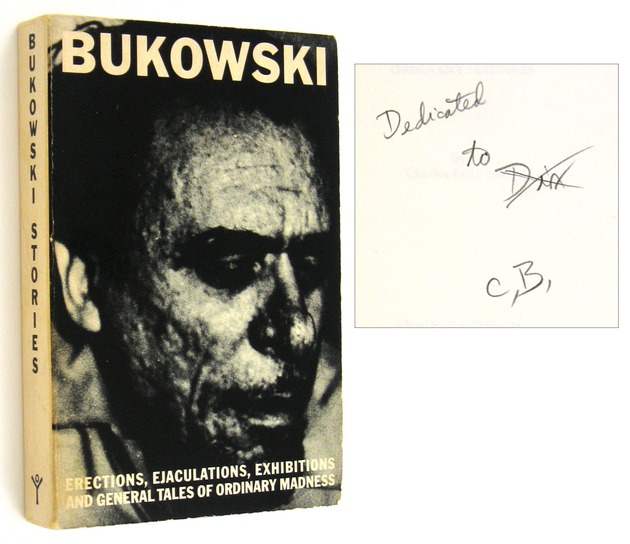 BUKOWSKI, Charles
Erections, Ejaculations, Exhibitions and General Tales of Ordinary Madness
(San Francisco), City Lights, (1972). Apparently
the dedication copy
of this collection of Bukowski's stories published mainly in underground papers such as
Open City
and
Nola Express
.
Inscribed by Bukowski: "Dedicated to Dix/ C.B.," but Bukowski has crossed out "Dix" and on the dedication page he's placed an asterisk after the printed dedication, "To Linda King," and added the footnote "*Dix's guardian angel
." King and Bukowski had a turbulent five-year relationship in the early 1970s. The full, printed dedication here reads: "To Linda King/ who brought it to me and who will take it away." Given that Bukowski has first dedicated this copy to "Dix," and then crossed that out to asterisk King, "Dix's guardian angel," instead, this could easily be construed to be the dedication copy. Pursuing this line of thought, "Dix" (Dixon Steele) was the name of the lead character in the Humphrey Bogart film
In a Lonely Place
, in which an alcoholic screenwriter suspected of murder falls in love with a woman who saves him from the law and who has the potential to save him from his inner demons, if only he could stop feeding into her doubts about him. "Dix," as played by Bogart, would thus be an alter ego of Bukowski, and King the alter ego of "Laurel Gray," the character who gives Bogart the alibi that protects him. Mild sunning and a few small creases; near fine in wrappers. One of the more unusual and allusive Bukowski inscriptions we have seen.
[#032744]
SOLD
All books are first printings of first editions or first American editions unless otherwise noted.