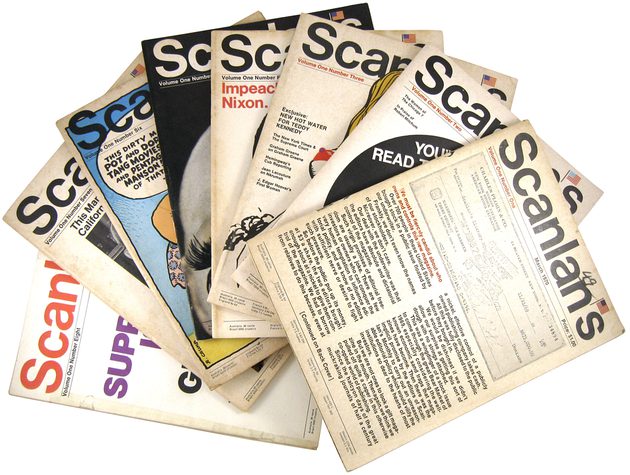 (THOMPSON, Hunter S.)
Scanlan's Monthly, Nos. 1-8
(NY), Scanlan's, 1970-1971. A complete run of the magazine edited by Warren Hinckle III and Sidney Zion, and featuring several articles by Hunter Thompson, including: "The Temptations of Jean-Claude Killy" (No. 1); "The Kentucky Derby is Decadent and Depraved," with illustrations by Ralph Steadman (No. 4); "Nixon and the Bums," (unattributed, but illustrated by Steadman) and "The Police Chief" by the pseudonymous Raoul Duke (No. 7); and "The Aspen Wallposter" (No. 8). Issue No. 8 is tapebound at the spine; else the lot is near fine. Scanlan's was a short-lived monthly magazine with an anti-government bent at the height of the polarization that existed in the U.S. after a decade of assassinations, race riots, the Vietnam war, and the protests against that war that culminated in the riots in Chicago during the Democratic National Convention and the subsequent "Days of Rage." Richard Nixon, as President, took an interest in the magazine after it depicted him with a number of business leaders, and captioned the photo with the "war crimes" each was responsible for. Printers boycotted the magazine for its anti-American political posture and the final issue had to be printed in Canada.
[#031766]
SOLD
All books are first printings of first editions or first American editions unless otherwise noted.
See more items by THOMPSON, Hunter S.