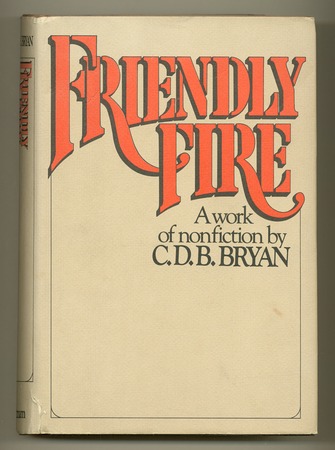 BRYAN, C.D.B.
Friendly Fire
NY, Putnam, (1976). An advance review copy of this nonfiction work, which was made into a television miniseries.
Friendly Fire
chronicles the radicalization of a patriotic Midwestern family after their son is killed by "friendly" (i.e., U.S.) fire and they try to get the details from a balky government seemingly more interested in protecting those responsible, but still living, than in honoring the dead. An important book, which chronicles the process by which opposition to the war filtered from the "radical fringes" of society into the middle class mainstream. Spine heavily cocked; otherwise near fine in a near fine dust jacket with one open edge tear at the base of the spine.
[#009843]
$20
All books are first printings of first editions or first American editions unless otherwise noted.