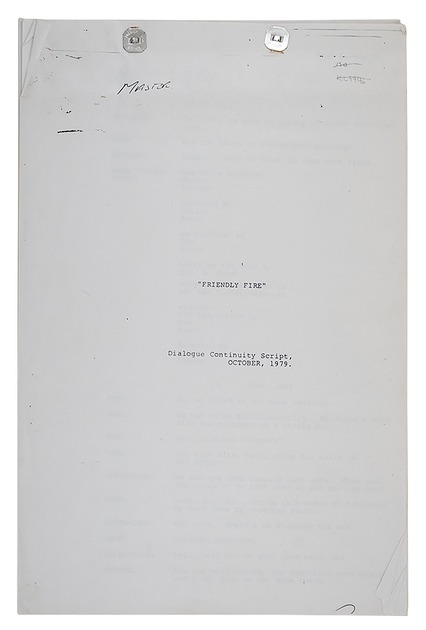 (BRYAN, C.D.B.). KANIN, Fay
Friendly Fire
(n.p.), (Marble Arch), (1979). Dialogue continuity script for Kanin's television screenplay based on C.D.B. Bryan's 1976 nonfiction book.
Friendly Fire
chronicles the radicalization of a patriotic Midwestern family after their son is killed by "friendly" (i.e., U.S.) fire, and they try to get the details from a balky government, seemingly more interested in protecting those responsible than in honoring the dead. An important book, and film, for depicting the tide of mainstream political opinion in the U.S. turning against the war effort in Vietnam. Claspbound photocopied sheets; first page creased, otherwise near fine.
[#035691]
$175
All books are first printings of first editions or first American editions unless otherwise noted.