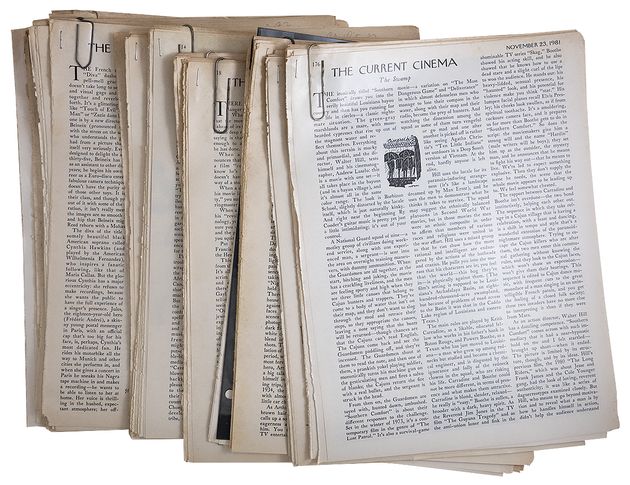 KAEL, Pauline
The Current Cinema
NY, The New Yorker, 1968-1988. Kael's own copies of 190 of her "Current Cinema" columns for
The New Yorker
, which she wrote for over two decades. All but two of these (one from 1968 and one from 1970) date from 1980 forward, after her leave of absence to try her hand in Hollywood. Included here are 20-26 columns for each of the years 1981-1987; 9 from 1980; and 13 from 1988. Several copies of each issue are present, which Kael has clipped together.
Kael has also written the date
on the majority, which tend to lack a printed date; and
approximately a dozen columns bear Kael's corrections, markings or comments
, in addition to one or two showing a copy-editor's changes. The first issue present, November 16, 1968, reviewing the forgettable Sean Connery vehicle
Shalako
, has Kael's note attached, which says, "Ugh." The lot is near fine.
[#035647]
$2,500
All books are first printings of first editions or first American editions unless otherwise noted.
See more items by KAEL, Pauline