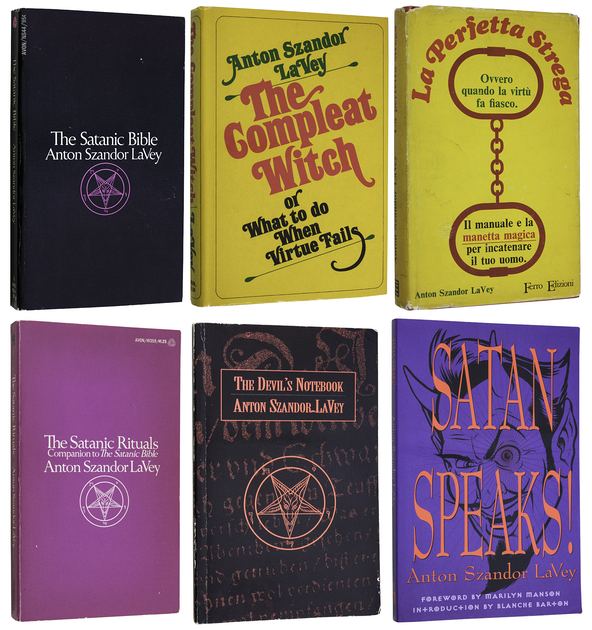 LaVEY, Anton Szandor
Collection
[Various], [Various], [1969-1998]. Five titles, seven volumes, by the occultist, as follows:
The Satanic Bible. (NY): Avon (1969). First edition, paperback original. This edition has a page-long list of dedicatees, including Friedrich Nietzsche, P.T. Barnum, Wilhelm Reich, and Mark Twain, among many others. Italian bookstore stamp on prelim; near fine in wrappers.
The Compleat Witch. NY: Dodd, Mead (1971). Fine in a near fine dust jacket. Together with the first paperback edition [NY: Lancer (1971)], which is near fine in wrappers, and the first Italian edition [La Perfetta Strega (Milano: Ferro, 1971), which is fine in a very good dust jacket. This is essentially a self-help book for women, giving how-to answers to questions about men and relationships.
The Satanic Rituals. (NY): Avon (1972). Purports to provide accurate details for Satanic rituals like the Black Mass and Satanic Baptisms. Like its companion volume, The Satanic Bible, its dedication page is a long list of people who influenced the author, including Boris Karloff, Kenneth Anger, Kim Novak, Mae West, George S. Patton, and Groucho Marx, among many others. Spine creased; near fine in wrappers.
The Devil's Notebooks. (Portland): Feral House (1992). Published by Adam Parfrey, who provided an introduction. Essays on random subjects by LaVey, including the Whoopee Cushion and how to become a werewolf. Near fine in wrappers.
Satan Speaks! (Venice): Feral House (1998). Posthumous collection of writings by LaVey, with a Foreword by Marilyn Manson. Fine in wrappers.
Anton LaVey was, prior to the publication of
The Satanic Bible
, a small-time self-help guru, handing out pamphlets and writings to a small group of San Francisco followers. The idea that what he was doing essentially constituted a new religion, and that he should publish its "Bible," seems to have come from others, but embraced avidly by LaVey, who effectively re-branded himself as a worldwide leader of a serious religion -- or perhaps not that serious, given his expressed acknowledgments to people like P.T. Barnum and Groucho Marx. The LaVey/Satanism phenomenon can be viewed as an extreme example of marketing and self-promotion. LaVey is careful to debunk others' stories of mystical truths revealed through Satanism and magic, and to posit his own views in terms that are pragmatic and (relatively) practical.
[#035011]
SOLD
All books are first printings of first editions or first American editions unless otherwise noted.