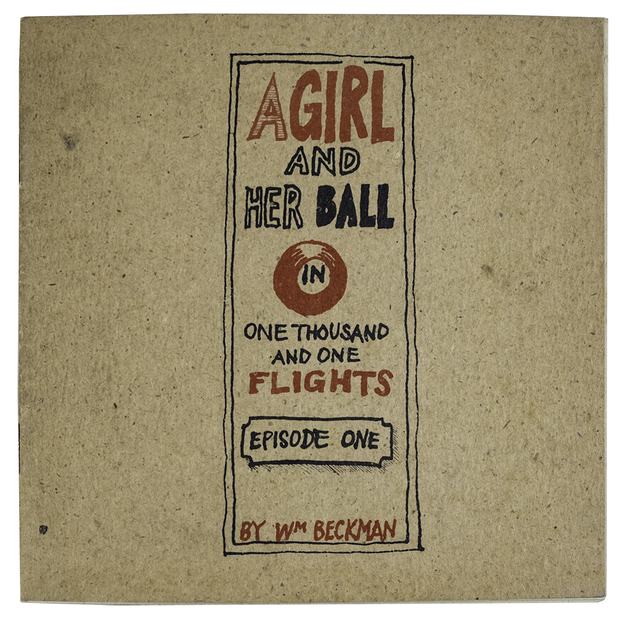 BECKMAN, Wm.
A Girl and Her Ball in One Thousand and One Flights, Episode One
(n.p.), (n.p.), (1965). An early item by the artist, with only one copy listed in OCLC. An apparently self-published, illustrated re-telling of the Grimms'
Frog Prince
, in which (this being 1965), the frog fails to turn into a prince when kissed (overlooking that in the original fairy tale the frog is transformed by being splattered against a wall), and the girl lives happily every after playing with her ball. A small chapbook (5" x 5"); fine in stapled wrappers. Beckman was still a student (University of Iowa) in 1965. From the website of Forum Gallery: "William Beckman's portraits were the subject of an individual exhibition at the opening of the newly-situated National Portrait Gallery in Washington, DC in 2006. His work is included in the collections of that museum, as well as the Whitney Museum of American Art (New York), the Joseph H. Hirshhorn Museum and Sculpture Garden and the Smithsonian American Art Museum (Washington, DC), Museum Moderne Kunst (Vienna, Austria), The Art Institute of Chicago, The Carnegie Museum of Art (Pittsburgh, PA), Flint Institute of Arts (MI), Milwaukee Art Museum (WI), Columbus Museum of Art (GA), Des Moines Art Center (IA) and Frye Art Museum (Seattle, WA)." An early work by Beckman: his first group show was in 1968 and his first solo exhibition was in 1970.
[#034991]
SOLD
All books are first printings of first editions or first American editions unless otherwise noted.