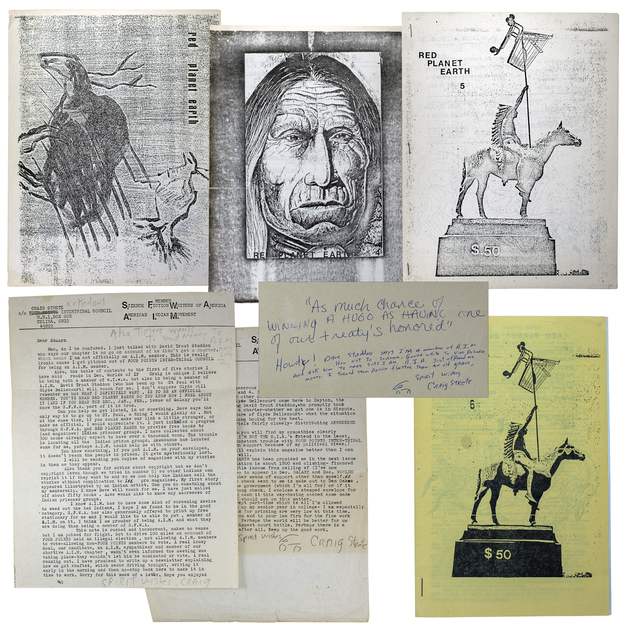 STRETE, Craig Kee
Two Autograph Letters Signed and Red Planet Earth, Vol. 1, Nos. 2, 4, 5, and 6.
Dayton/Celina, [Self-Published], 1974. Four issues of this magazine of "American Indian Science Fiction," for which Strete, a Native American writer of Cherokee descent, serves as editor, illustrator and major contributor. Included here are the second issue and the final three issues. Issue #2 has three pieces by Strete, including "The Bleeding Man," a title later used for one of his collections and here a collaboration with Mark Horse. 30 double-sided xeroxed pages stapled at spine; fine. Issue #4 has three pieces by Strete, including "We Can't Kill All the White Men But How do We Know Until We Try." 38 double-sided pages, corner-stapled; fine. Issue #5 is
signed by Strete
and has three pieces by him. 20 xeroxed pages stapled at spine; fine. Issue #6 has been photo-reduced to a smaller format; Craig serves as editor and includes a goodbye notice, in part: "Illness. This is the last issue. THANK YOU TO THOSE WHO HAVE EARNED IT. Hatred for the bad guys." Again side-stapled. Small stains to covers; near fine.
Together with
two autograph letters signed and additional autograph note signed written on the back of one of the envelopes.
The letters are long, involved, economic and political: much of the correspondence has to do with the A.I.M. and Strete trying to get membership, as well as his attempts to fund
Red Planet Earth
. A handwritten postscript on one of the letters says, "Also Tiptree [James Tiptree, Jr.] wants to send money to A.I.M." The note Strete's written on the envelope reads in part: "As much chance of winning a Hugo as having one of our treaty's honored." The letters are folded for mailing; near fine. A little-known but substantial publication in an under-recognized field, put together by the leading exponent of the field, along with his original letters and other writing.
[#034896]
SOLD
All books are first printings of first editions or first American editions unless otherwise noted.