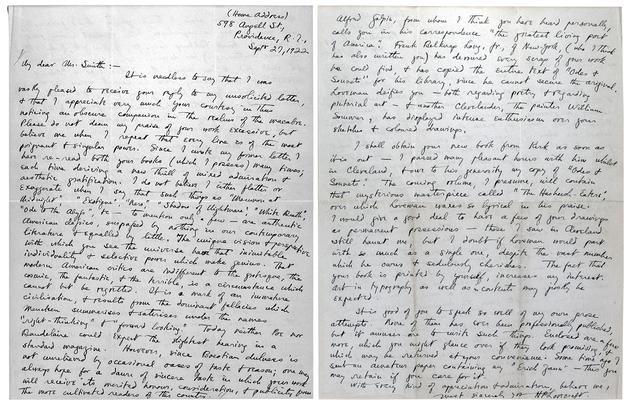 LOVECRAFT, H.P.
Autograph Letter Signed, to Clark Ashton Smith
September 27, 1922. Lovecraft's second letter to Smith, after receiving a welcome and apparently somewhat unexpected reply to his first, an unsolicited fan letter written the month prior. In this letter, Lovecraft praises Smith's "vision & perspective" as "genius" and bemoans the indifference of modern critics "to the grotesque, the cosmic, the fantastic, & the terrible" as a "mark of an immature civilisation." His praise of Smith's writing is effusive: "[B]elieve me when I repeat that every line is of the most poignant and singular power," and he lists a series of Smith's stories declaring that they "are authentic American classics, surpassed by nothing in our contemporary literature and equalled by little." He cites numerous writers who comprise a devoted following of Smith's writing; he praises Smith's drawings; and he even registers praise for the typography of Smith's self-published work. Lovecraft includes some of his own "prose attempts" (not present here). One can readily get the sense that Smith would have welcomed this appreciation: from an original fan letter the two went on to exchange 600 letters over the next 15 years, until Lovecraft died in 1937 at the age of 46. Two pages, written on both sides of one sheet. Folded in sixths. Near fine.
Signed in full, "Most sincerely yrs -- HP Lovecraft."
The formality of signing in full lasted for only the first 10 months of their correspondence, or for approximately 9 or 10 letters.
[#034887]
SOLD
All books are first printings of first editions or first American editions unless otherwise noted.
See more items by LOVECRAFT, H.P.