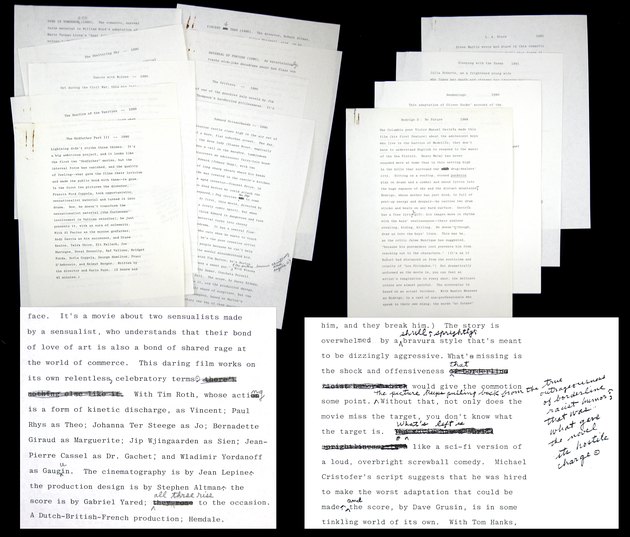 KAEL, Pauline
13 Typescript Film Review "Blurbs"
(n.p.), (n.p.), (1988-1991). Thirteen typescript "blurbs" by Pauline Kael -- her own condensations of her full-length reviews, re-written for the "Goings On About Town" section of
The New Yorker
in subsequent weeks. Most are a full page long and bear her small or not-so-small holograph changes, written in pencil. One is a photocopy, with the changes also photocopied. Included are several films that Kael panned, including
The Godfather Part III
and
Dances With Wolves
, for which she had to distill her long, thoughtful (and sometimes scathing) critiques into far fewer sentences. Films included, in addition to the two mentioned above, are:
Sleeping With the Enemy
;
Awakenings
;
L.A. Story
;
The Bonfire of the Vanities [photocopy]
;
Edward Scissorhands
;
The Sheltering Sky
;
The Grifters
;
Rodrigo D: No Future
;
Tune in Tomorrow
;
Reversal of Fortune
; and
Vincent & Theo
. 13 blurbs, totaling 15 sheets. A bit of age-spotting to the paper, and rust offset from paperclips; very good or better. Manuscript material by Kael is scarce: even her full-length reviews did not, for the most part, remain in her archive -- when she sent them off to
The New Yorker
, they never came back to her.
[#034588]
SOLD
All books are first printings of first editions or first American editions unless otherwise noted.