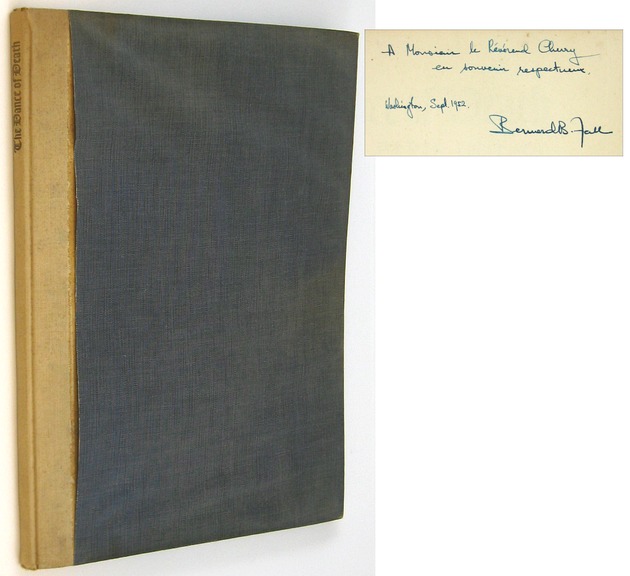 FALL, Bernard B.
Dance of Death
(Washington, D.C.), (Library of Congress), (1946). Facsimile edition of a French incunabulum in the Library of Congress, here with a
presentation inscription from Fall dated September 1952
in Washington, D.C. Inscriptions by Fall, who spent most of his life in France and Southeast Asia, are uncommon. Covering the Indochina war and later the American war in Vietnam, Fall was one of the most experienced and influential Western correspondents in Vietnam. He was the first Western journalist to interview Ho Chi Minh after the partition of Vietnam. During the Vietnam War -- the "American war" -- he was a bridge between the "old Asia hands" covering the war and the "young Turks" -- like Michael Herr, Sean Flynn and Dana Stone, and Peter Arnett -- who brought a healthy skepticism to their beat, and backed it up with a willingness to take on the hardships of the grunts they were covering in order to get their stories. Fall himself was killed while on patrol with U.S. troops in 1967. Thin quarto; foxed endpages; cloth wavy and lifting from boards, an indication of having spent time in a humid environment. A good copy.
[#034495]
SOLD
All books are first printings of first editions or first American editions unless otherwise noted.