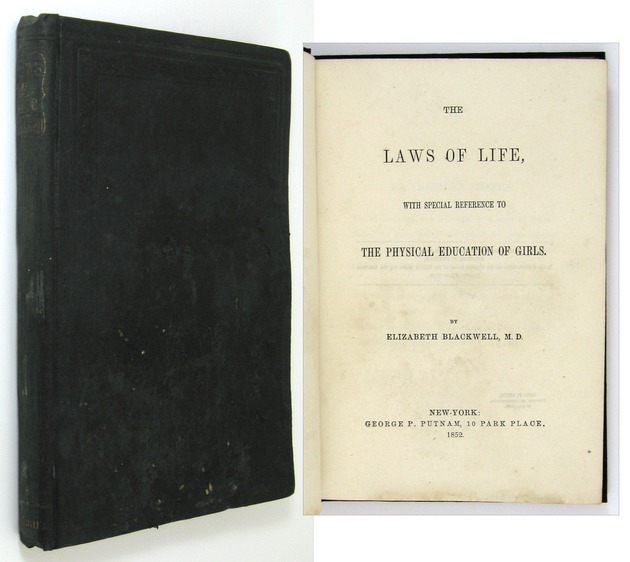 BLACKWELL, Elizabeth
The Laws of Life, with Special Reference to the Physical Education of Girls
NY, Putnam, 1852. The first book by the first female M.D. in the United States, who graduated first in her class at Geneva Medical School in New York state, after having been rejected by 29 colleges. She was admitted to Geneva only when the all-male student body voted to accept her, believing it was a joke. She had been inspired to pursue medicine when a dying friend told her that the worst part of her illness was her treatment by a "rough, unfeeling man." After graduation, Blackwell went to Europe (she had been born in England), but was offered only midwifery work. Several years later, she returned to the U.S., where she was refused work in New York hospitals, facing "a blank wall of social and professional antagonism." Blackwell went into private practice, opening the New York Infirmary for Indigent Women and Children, and eventually The Women's Medical College of the New York Infirmary. First delivered as a series of lectures,
The Laws of Life
eloquently advocates for exercise, physical education, and a wholesome diet, addressing, among various other topics, the benefits of natural movement, the evils of sitting, the unequal opportunity of healthy recreation for girls, and the need for balance in social, intellectual and physical pursuits, while criticizing the then-current priorities of the American school system and the typical in-door life: "If we were to sit down and carefully plan a system of education, which should injure the body, produce a premature and imperfect development of its powers, weaken the mind, and prepare the individual for future
uselessness
, we could hardly by any ingenuity construct a system more admirably calculated to produce these terrible results." As such, the text is a philosophical precursor to the movement lineage that would come to include Georges Hebert's Natural Method ("Be strong to be useful") and modern day Natural Movement (MovNat) methods. Owner name; marginal insect damage to a dozen early pages; and dampstaining, predominantly to the prelims and front cover. A sound copy, quite nice past the introduction, but owing to the heavy dampstaining to the cover and front endpages, only a good copy. A landmark volume.
[#033909]
SOLD
All books are first printings of first editions or first American editions unless otherwise noted.