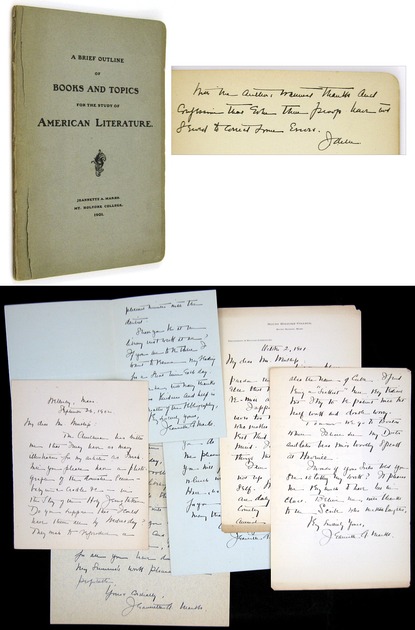 MARKS, Jeanette A.
A Brief Outline of Books and Topics for the Study of American Literature, with Autograph Letters Signed
Pawtucket, John W. Little & Co., 1901. A possible proof copy of this handbook by Marks, published while she was teaching at Mt. Holyoke College.
Inscribed by the author
with "the author's warmest thanks" and with a confession that even "these proofs" still bear errors. Likely inscribed to George Parker Winship of the John Carter Brown Library, who is mentioned in the acknowledgments, and to whom the five included
autograph letters signed
are addressed. The letters are dated from August 8, 1901 to September 26, 1902. The first letter sends estimates from the publisher (for either 100 or 200 copies) and extends thanks for Winship's help with "this bibliography." The second letter apologizes, first for her handwriting (affected by "playing base ball with the boys,") and then for proof copies having been sent to him without a note. Marks says she will be visiting Pawtucket with Miss Woolley and would like to see Winship if he will be in Providence. The next letter reveals that this did not transpire, as Marks was ill, yet she continues to express her indebtedness to Winship and invites him to South Hadley (Mt. Holyoke). In the fourth letter, Marks thanks Winship for making her laugh, as she is still not well, "not up to her best base ball self," and "anyone who makes his friend laugh is the best kind of doctor to my mind." She tells of herself and Miss Woolley being "daily pulled around the country by a fiery spirited animal," and says they will travel to Haverill where Miss Woolley will speak. The final letter explains needing illustrations for an upcoming article, and inquires about Cotton Mather's
The Wonderful Works of God Commemorated.
In all, roughly nine pages of writing by Marks (not all summarized here): the letters have each been previously folded but are still near fine; the book is age-toned and the front cover is present but detached, thus only a fair copy. Marks was hired as a teacher at Mt. Holyoke by President Mary Woolley who had been her teacher at Wellesley; the two became life partners and lived together there in the President's House until Woolley was forced to resign in 1937, though their relationship continued. It is possible this book was never formally published: only one copy shows up in OCLC, at Wellesley College, and Marks's bibliography as indicated in her Wikipedia entry lists her first book as being in 1902, and being a study of English literature. The Wellesley copy could, like this one, also be a proof copy.
[#033899]
SOLD
All books are first printings of first editions or first American editions unless otherwise noted.