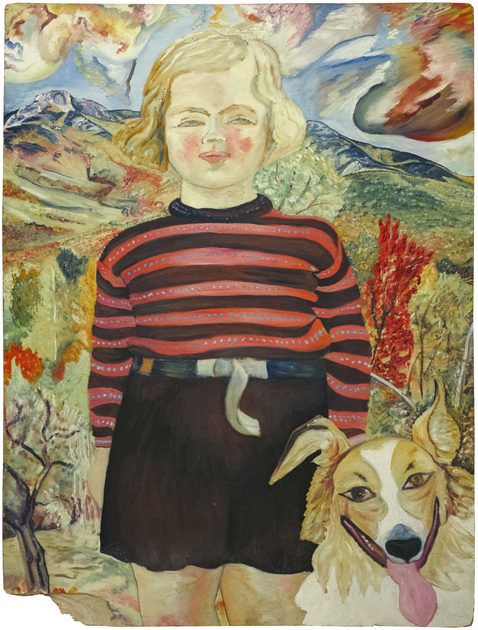 CUMMINGS, E.E.
A Girl and Her Dog
ca. 1928.
A large portrait by Cummings of his stepdaughter, Diana Barton, with one of her dogs at Joy Farm in New Hampshire, sometime between 1927 and 1930. Diana was born in 1921; Cummings met Anne Barton in 1925 and they spent several summers at Joy Farm beginning in 1927. Diana is standing outside, with her dog at her side and Mount Chocorua in the background.
One of the best-loved American poets of the 20th century, Cummings was also a prolific visual artist: he considered writing and painting to be his "twin obsessions." He exhibited his work in the annual Society of Independent Artists shows from 1916-1927, and he was the art editor of The Dial magazine, the preeminent Modernist literary journal in the U.S., in the 1920s. In 1933, Cummings published a book of his artwork in a limited edition. Called CIOPW, it took its title from the media he used in his art: charcoal, ink, oil, pencil and watercolors. In his early years he emphasized abstract painting; from the 1930s on he tended toward representational images, albeit with a range of inventive palettes, which some have compared to his inventiveness with words and poetic forms and structures.
This is an early, transitional image by Cummings, painted as he was moving from abstract to representational art but still using the brilliant color schemes and flourishes that link his later art back to his abstracts. In this painting, the sky is "psychedelic," the mountain range has a variety and richness of color, and Cummings has taken liberties with the proportions. 35-3/4" x 47-3/4". Oil on Upson Processed Board (a fiberboard used as a building material in the early 20th century), with a narrow (2" x 8") chip missing from the lower left corner, affecting only flora. "DIANA BARTON" written on the back (in a child's hand?); also "1928-9?" Unsigned, as was most of Cummings' artwork, as he adhered to the theory (popularized decades later) that art is best encountered independent of its artist, even as his paintings seem to shed light on his innovative, visual style of poetry.
[#033852]
$15,000
All books are first printings of first editions or first American editions unless otherwise noted.
See more items by CUMMINGS, E.E.
Visit the E.E. Cummings' Art website