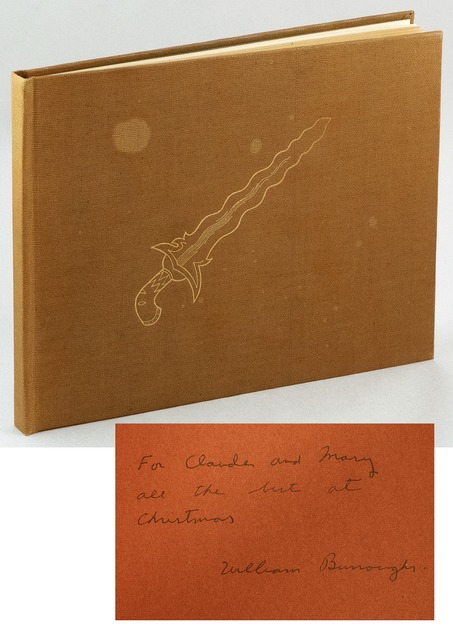 BURROUGHS, William S.
Ali's Smile
(Brighton), Unicorn, 1971. Clothbound first edition limited to 99 numbered and signed copies, this being
one of only 9 hors commerce copies
and
inscribed by the author to Claude Pelieu and Mary Beach
, friends and collaborators with Burroughs on a number of different projects, mostly in the mid-1960s. The inscription reads: "For Claude and Mary/ all the best at/ Christmas/ William Burroughs." One of Burroughs' smallest limitation for the entire edition, the
hors commerce
copies are exceedingly scarce: we could find no record of one ever turning up at auction; and, while nearly 50 copies of this edition are housed in research libraries, we could find no evidence that any of them were
hors commerce
copies or that any of them had a similarly rich association. Even the Carter Burden copy, at the Morgan Library, is one of the copies that was for sale, numbered 1-90, and Burden made an effort -- usually successful -- to get every variant he could of the titles and authors he collected. Brown cloth without dust jacket, as issued. A few faint spots to the cloth; near fine. Originally issued with a 12" LP record, not present here and not present with most of the copies that have been on the market or are in institutional collections: many of the LPs were damaged prior to publication, and books were issued without the accompanying record. It is not known if the
hors commerce
copies would have been accompanied by the LPs or not, but it is reasonable to surmise that the few surviving LPs would have been placed with copies that were to be sold in the trade, not with those held back from commerce. An excellent association copy between key figures of the Beat generation and counterculture, and an extremely scarce issue of an uncommon Burroughs title.
[#033848]
SOLD
All books are first printings of first editions or first American editions unless otherwise noted.
See more items by BURROUGHS, William S.