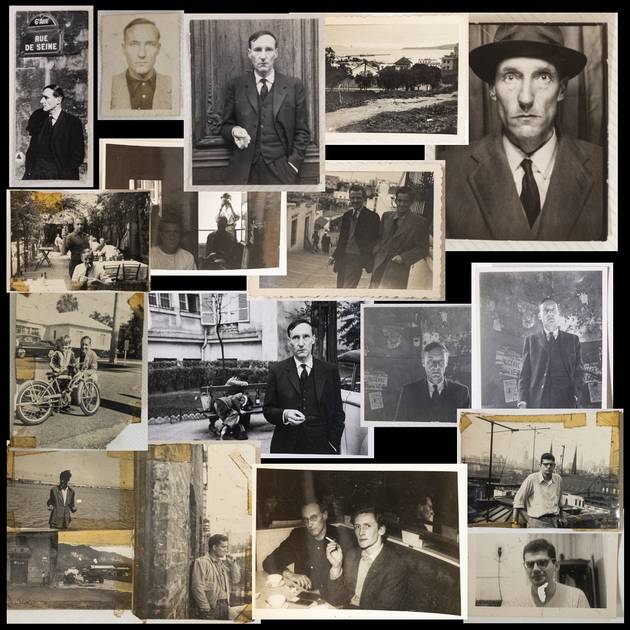 BURROUGHS, William S.
Early Photographs from the Collection of William S. Burroughs
[ca 1950s]. An album containing early photographs by and of William S. Burroughs and other figures of the Beat generation, including photo collages and partial collages, with annotations by Burroughs; a photobooth portrait; a passport photo; a negative of an unpublished Brion Gysin photograph of Burroughs from 1959 (with contemporary archival print); and other images. 32 photographs in all, plus calling cards of Bruno Heinrich and Charles Henri Ford, and a copy of
Driffs
magazine -- "The Antiquarian and Second Hand Book Fortnightly" -- which includes Part 1 of Iain Sinclair's "Definitive Catalogue" of the Beats -- this part being devoted entirely to the works of William Burroughs, with this album as item number 80 in the catalogue.
The photographs are primarily from the early 1950s -- the ones annotated by Burroughs having dates from 1952 to 1954. Several photographs are taped together, forming early visual collages, while a number of the individual photos have sellotape along their edges, suggesting they were at one time part of a larger collage. The collages, or collage fragments, represent some of Burroughs' earliest attempts to use visual images in the way he was using words -- to transcend time and space, and link together various aspects of his life and world, in ways that correlate to a "mindscape" -- akin to the connections between the stories he wrote during that period that were collectively known as the Interzone, which was also an early title for Naked Lunch.
Brion Gysin, in his 1964 essay, 'Cut ups: A Project for Disastrous Success,' wrote that "Burroughs was more intent on Scotch-taping his photos together into one great continuum on the wall, where scenes faded and slipped into one another, than occupied with editing the monster manuscript" -- i.e., Naked Lunch, aka his Word Hoard. And Burroughs wrote in one of his Adding Machine essays: "I was back in my old garden room at the Villa Muniria [in Tangier], and it was here that I first started making photo-montages." This was March 1961.
The provenance of this group of materials is "the legendary Hardiment suitcase," belonging to poet Melville Hardiment, a friend of Burroughs during the years 1960-62, who is also known as the first person to have given Burroughs LSD, apparently without Burroughs' advance knowledge. Hardiment's wife at the time was Harriet Crowder, a photographer who is well-known for having taken the portrait of Burroughs on the LP "Call Me Burroughs." Hardiment bought a number of items from Burroughs in that time period and famously kept them in a suitcase. According to his second wife, Pat Hardiment, Melville would sell off the contents bit by bit, when he needed money. One group of materials ended up at the University of Kansas, and is known there as the Burroughs-Hardiment Collection: this group went from Hardiment to the bookseller Pat Zanelli, to bookseller Larry Wallrich, and then to the university.
A second group of photographs and collages went into the collection of photographer Richard Lorenz, and were exhibited in the 1996 show at the Los Angeles County Museum of Art -- "Ports of Entry: William S. Burroughs and the Arts." By 1996, Burroughs' influence on the visual arts was sufficiently deep and widespread to justify a museum show of its own. The photos and collages in the Lorenz collection were of the same subjects, from the same time period, with the same annotations as the Kansas photos, and would appear to have also come from Hardiment's suitcase. Several of the Lorenz images remain taped together forming collages, or mini-collages; many others, though, now stand alone, although by the evidence they were once part of a larger construct.
This third group, offered here, went from Hardiment to Iain Sinclair, likely again via Pat Zanelli (Sinclair recalls buying the lot from a woman bookseller, and Zanelli is the most likely candidate). Like the photos in Kansas and those in the Lorenz collection, many of these have sellotape on the edges, and like the collages in the Lorenz collection, some are still taped together, forming collages themselves or representing collage fragments.
Tape shadows on the versos of some of the images both here and at the University of Kansas hint that Burroughs may have created the collages and then, when he began experimenting with the cut-up technique in writing, have cut-up the collages with the intent of applying this same technique to visual imagery. The Lorenz items were not presently available for examination of their versos, but some evidence supports this notion, such as that some of the images in the collages were partially torn away, and that there was evidence of the collages having been part of a larger grouping previously.
William S. Burroughs is known as a key figure of the literary avant garde of the 20th century, and the impact of his work on the visual arts -- both his own artwork and others' works derived from his literary writings -- was sufficient to justify a major museum show and catalog. These snapshots and snapshot collages represent some of his earliest efforts to explore the ideas he was working on in his writing using visual materials. Isaac Gewirtz, the curator of the Burroughs archive in the Berg Collection at the New York Public Library, wrote in his book on Burroughs, Beatific Soul, that the Interzone was an "imaginary city" which was "a combination of New York, Mexico City, and Tangier" in which Burroughs "construct[ed] hallucinatory, interconnected narratives for its numerous characters." These groups of photographs show Burroughs venturing even farther afield and including "Tetuan" [i.e., Tetouan], in Morocco; Huanuco, in Peru; and Paris, as part of his interzone, or mindscape. The Huanuco photographs and a Pucallpa, Peru calling card date from Burroughs' trip to South American to meet with Harvard ethno-botanist Richard Evans Schultes (aka "Dr. Schindler" in The Yage Letters) to try ayahuasca for the first time.
Early, seminal material from William S. Burroughs, an icon of the Beat Generation, whom Norman Mailer, in 1962, called "the only American novelist living today who may conceivably be possessed by genius."
[#033847]
$24,900
All books are first printings of first editions or first American editions unless otherwise noted.
See more items by BURROUGHS, William S.