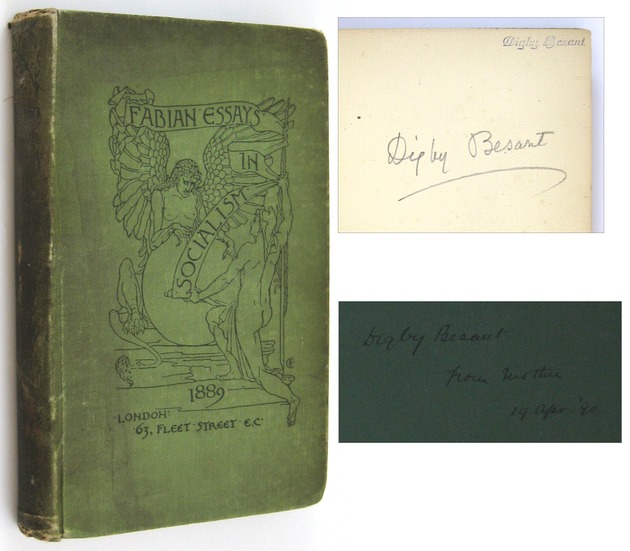 (BESANT, Annie)
Fabian Essays in Socialism
London, The Fabian Society, 1889.
Inscribed by contributor Annie Besant to her son, (Arthur) Digby Besant
(twice) in April, 1890. With Digby Besant's ownership signature and bookplate. The volume was edited by George Bernard Shaw. Besant's contribution is titled "Industry Under Socialism." Besant was a socialist, theosophist, women's rights activist, and an early supporter of, and speaker for, the Fabian Society. In 1890, the year she gave her son this book, she met Helena Blavatsky, founder of the Theosophical Society; after Blavatsky's death in 1891, Besant became one of the leaders and key figures in the theosophical movement, which eventually split into several factions, and also led to the Anthroposophy movement, when Rudolph Steiner, another leader in the Theosophical Society, broke away from it. Spine and covers darkened, with wear to the joints; a good copy, and a unique family association copy. Books signed by Besant, one of the most prominent female activists of the 19th and early 20th centuries, are uncommon.
[#033604]
SOLD
All books are first printings of first editions or first American editions unless otherwise noted.