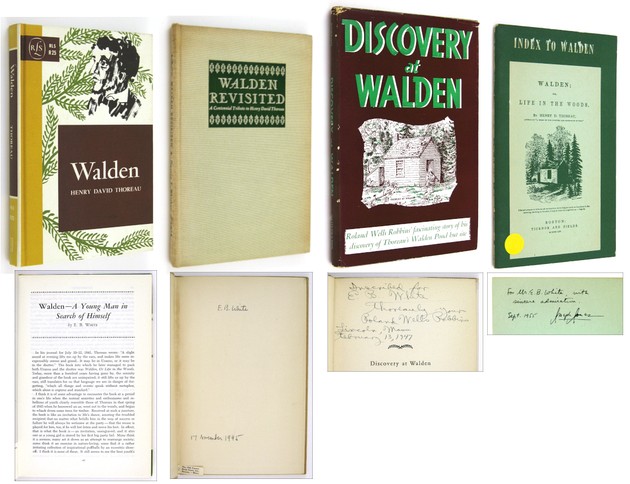 (WHITE, E.B.) THOREAU, Henry David
Walden
Boston, Houghton Mifflin, (1964). First thus: reissued in the Riverside Literary Series, with an introduction by E.B. White and, while not marked as such, this was
E.B. White's own copy
. Offered
together with
three other Walden-themed books from White's library:
Walden Revisited
by George F. Whicher, which is
signed by White
in 1945;
Discovery at Walden
by Roland Wells Robbins,
inscribed by Robbins to White
in 1947; and
Index to Walden
by Joseph Jones,
inscribed by Jones to White
in 1955. Four books on Walden from the library of E.B. White, who was a more powerful figure in the history of the environmental movement than most people realize: in 1958, it was White, in his position at the
New Yorker
, who was approached by Rachel Carson with the suggestion that he, White, cover the story of lawsuits filed in opposition to aerial sprayings of insecticide. White re-assigned the story back to Carson (later saying that he didn't "know a chlorinated hydrocarbon from a squash bug"), forwarding her letter to editor William Shawn. Carson's work on the subject,
Silent Spring
was serialized in the
New Yorker
in 1962, prior to its book publication. Condition, in the order listed above: fine without dust jacket, as issued; near fine, lacking the dust jacket; very good in a very good dust jacket; and very good in stapled wrappers. In 1953, White wrote of
Walden
in the
New Yorker
: "Every man, I think, reads one book in his life, and this one is mine."
[#033527]
SOLD
All books are first printings of first editions or first American editions unless otherwise noted.