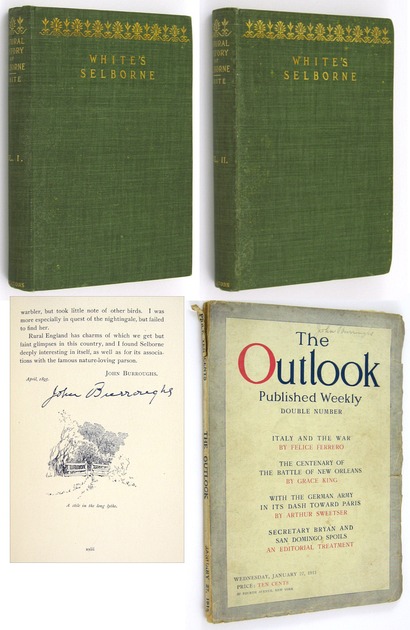 (BURROUGHS, John). WHITE, Gilbert
The Natural History of Selborne & Observations on Nature
NY, D. Appleton, 1895. First thus. A two-volume edition of White's 1789 classic of natural history, with a new introduction by John Burroughs and with photographs by Clifton Johnson.
Signed by Burroughs
at the end of his introduction, which runs approximately 15 pages. A penciled note on the first blank reads, "Introduction was signed by Burroughs Dec. 11, 1913./ A.H. Pratt." Pratt traveled to Burroughs' "Slabsides" house for the purpose of capturing the man in "moving pictures." He was later invited to visit Burroughs at his summer home, Woodchuck Lodge. Bookplate (of Franklin S. Terry) on each pastedown. Prelims pulling in the first volume. Top edges gilt. Very good copies.
Together with
a copy of
The Outlook
(January 27, 1915) in which Pratt's account of visiting Burroughs appears. Spine crown chipped; good in wrappers.
[#033516]
SOLD
All books are first printings of first editions or first American editions unless otherwise noted.