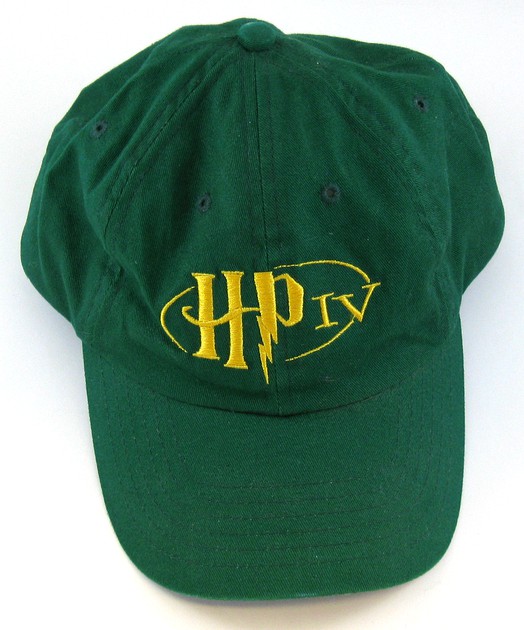 ROWLING, J.K.
HP IV [Harry Potter and the Goblet of Fire]
(n.p.), (n.p.), 2000. Promotional baseball cap for the transformative fourth book in the Harry Potter series:
Harry Potter and the Goblet of Fire
was nearly twice as long as the preceding book; it was the first to be released on the same date in the U.K. and the U.S.; the first to have a Saturday release date so as not to conflict with the school day; the first to have a multi-million copy U.S. print run; and it was the first book in the series to not have an uncorrected proof or advance reading copy issued. Its title was intended to be kept a secret until publication day (July 8, 2000); a feat that was made somewhat easier as Rowling herself wavered on the title until at least March or April. The working title was simply "HP IV," and offered here is a promotional green baseball cap with HP IV embroidered in gold on the front and the publication date (07-08-00) on the back: note the use of one Gryffindor color (gold) and one Slytherin color (green). Reportedly, the book was then titled
Harry Potter and the Doomspell Tournament
, then
Harry Potter and the Triwizard Tournament
, before emerging as
Harry Potter and the Goblet of Fire
. The hat is adjustable. Fine.
[#033232]
SOLD
All books are first printings of first editions or first American editions unless otherwise noted.