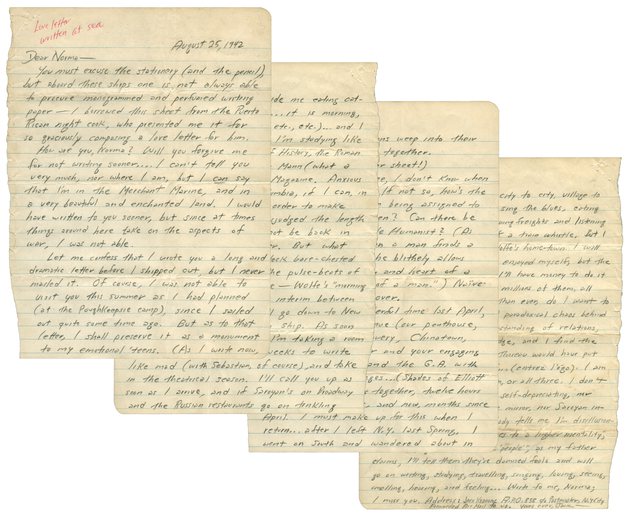 KEROUAC, Jack
Autograph Letter Signed
1942. An early
autograph letter signed
from Kerouac to his then-girlfriend, Norma Blickfelt, written when he was 20 years old, reflecting on his life and foreshadowing much of what he would later become famous for. 4 pages, written in pencil, and later annotated by him in red ink -- "Love letter written at sea." He writes that he cannot tell her exactly where he is or what he is doing -- it is wartime -- but he is "in a very beautiful and enchanted land."
Kerouac joined the Merchant Marine in the summer of 1942, both as a patriotic gesture during the war and also as a way to make money so he could afford to go back to Columbia in the fall. As it turned out, he "misjudged the length of the voyage" and was slated to not return until January. He ended up leaving the trip early, and the ship was torpedoed in January with the loss of all aboard -- several hundred lives. Kerouac enlisted in the regular Navy, but had a short tenure there: he later wrote that he asked them for an aspirin and they gave him a poor health discharge.
The letter is both self-consciously literary -- Kerouac writes for effect, clearly -- and also touches on his interests, readings, and aspirations: "The little Morro cook sits beside me eating oatmeal and Spanish chicken rice... it is morning, a grey drizzling dawn prevails, etc., etc." "I'm studying like mad on this ship -- Outline of History, the Roman writers, some classics, Thomas Mann (what a Humanist!) and the Shadow Magazine..."
"What romance.. to stand on a deck bare-chested at dawn, and to listen to the pulse-beats of the ship's great, idle engine -- Wolfe's 'morning and new lands...'"
He writes that as soon as he returns from the trip he will take a room in the Village "to write like mad" and will call her and "if Saroyan's on Broadway and the Russian restaurants go on tinkling songs of home while Russians weep into their vodka, we'll take that in together."
He quotes Budd Schulberg then reminisces about their (his and Norma's) time together -- "Third Avenue (our penthouse, our little song), the Bowery, Chinatown, Union Square, the Harbor and your engaging German singing..." -- and then about a trip he took down South after that where he "wandered about in my own lonely way, from city to city, village to village, listening to the Negros sing the blues, eating and working in lunchcarts, hopping freights and listening to the great American music of a train whistle..." "And stories -- I've millions of them, all ready to pop out. Now, more than ever, do I want to write."
He writes about "the Genius of poetry (as Thoreau would have put it)" and about his own being "frank, or egotistical & vain, or all three" but doesn't apologize and says "I don't remember Whitman being self-depreciating, nor Wolfe with his long hours at the mirror, nor Saroyan indeed, nor Joyce, etc..." He concludes by saying that "if anybody tells me I'm disillusioning myself, or harboring 'pretenses to a higher mentality,' or even 'trying to rise from the people,' as my father claims, I'll tell them they're damned fools and will go on writing, studying, travelling, singing, loving, seeing, smelling, hearing, and feeling... Write to me, Norma; I miss you." He gives his address and signs the letter "Yours ever, Jack."
Kerouac had written her "a long and dramatic letter" earlier "but I never mailed it." He says he will preserve that letter "as a monument to my emotional teens." This is apparently the earliest letter that Kerouac sent that survives, other than one to "Sammy" Sampas, his longtime Lowell friend, and one he wrote to his sister after he helped their parents move from Lowell to New Haven in 1941.
White lined paper, torn from a notebook along one edge; folded in eighths. Staple holes one upper corner; near fine. A glimpse of the young Kerouac's own blueprint for his life, from his formative years, touching on the major themes that defined his life and work.
[#033220]
SOLD
All books are first printings of first editions or first American editions unless otherwise noted.