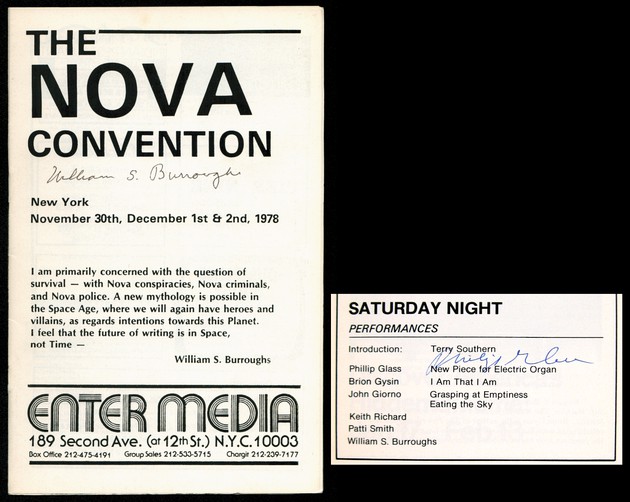 (BURROUGHS, William S.)
The Nova Convention
NY, Entermedia, 1978. The program for three days of performances, film, readings and discussions honoring Burroughs' and his writings in 1978, when he first returned to the U.S. after many years of living in London and Tangier.
Signed by William Burroughs and by Phillip Glass.
Glass performed "New Piece for Electric Organ," which a teenage attendee -- Thurston Moore, later of Sonic Youth -- described as "idiosyncratic high-speed minimalist pianistics [which] was natural, gorgeous and sublime." Other participants included a virtual Who's Who of the American avant garde and underground: Brion Gysin, Patti Smith, Laurie Anderson, Kathy Acker, Timothy Leary, John Giorno. Ed Sanders, Allen Ginsberg, Anne Waldman, Merce Cunningham, John Cage, Terry Southern, Robert Anton Wilson, filmmaker Kathryn Bigelow and others. Keith Richards was listed but didn't appear; Frank Zappa filled in by reading "The Talking Asshole" from
Naked Lunch.
Robert Palmer reviewed the event for the
New York Times
and wrote that the Glass piece was "as conservative in its language and as rigorous in its organization as Mr. Burroughs's first novel, 'Junkie,'" and that Patti Smith's "was more in the tradition of the cut-ups; it celebrated attitude, style, and the kind of 'holy accidents' that visionary artists have long cultivated." At least two films of the event have been released, and one record album and cassette, and portions of it have been restaged over the years: it was self-consciously understood by the participants to be a landmark of its time. The cover prints a seven-line quote from Burroughs, which as usual seems to anticipate the future -- our present -- in terms practically no one but he would have come up with, about surviving the age of Nova, "with Nova conspiracies, Nova criminals, and Nova police" and a "new mythology in the Space Age, where we will again have heroes and villains, as regards intentions towards this planet." Twelve pages; fine in stapled wrappers. An uncommon and ephemeral piece documenting a major cultural event, seldom found signed by the central figure of the convention, and here also signed by one of the performers, himself a major American composer.
[#033218]
SOLD
All books are first printings of first editions or first American editions unless otherwise noted.
See more items by BURROUGHS, William S.