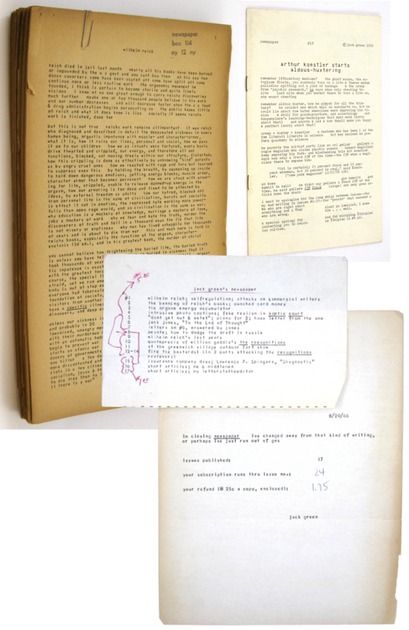 GREEN, Jack
Newspaper, #1-18
NY, Self-Published, (1957-1979). A complete run of Green's self-published newspaper,
Newspaper
, which he founded to extol the writing of William Gaddis, whose first novel appeared in 1955 and was dismissed by critics: "jack green" (a pseudonym of Christopher Carlisle Reid) created "newspaper," and wrote as a literary critic, praising Gaddis' work, and his efforts are believed to have been the spur for the new edition of
The Recognitions
published in 1962. Gaddis' novel eventually made
Time
magazine's list of the 100 best novels from 1923 to 2005. Green published 17 issues of
Newspaper
from 1957-1966, at which point he closed
Newspaper
and refunded his subscribers, only to resurface in 1979 with issue #18, and then cease publication once again. This is a complete run: issues #1-17, on poor quality legal-sized paper with text on both sides, originally stapled in the upper left corner (staples now removed on all but one issue). The final issue is a small format, on better paper.
Together with
a 1966 list of the back issues and their prices, and a note from "jack green" (signed in type), dated 8/29/66 saying "im [sic] closing
newspaper
ive changed away from that kind of writing, or perhaps ive just run out of gas." With a calculation of the refund owed the subscriber. Over the course of publication, Green had branched out beyond Gaddis to cover other writers such as Joyce and Faulkner, and other topics such as voting and peyote (not simultaneously), William Reich, and insurance. One issue had two illustrations tipped onto the front page: one is detached, one is now missing. Underlinings in one issue; all but the final issue are heavily acidified; else a near fine set. Surprisingly, given its impact on the critical reception of William Gaddis' first novel -- and by extension on Gaddis himself and his overall body of work -- we could find no indication in OCLC that any institution holds a complete collection.
[#033174]
SOLD
All books are first printings of first editions or first American editions unless otherwise noted.