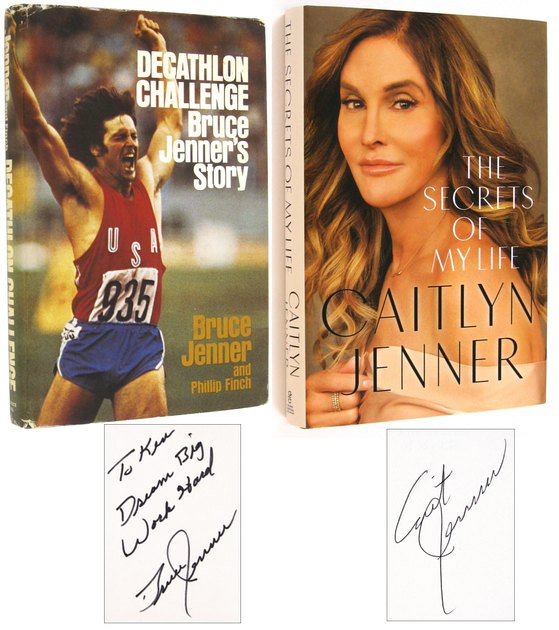 JENNER, Caitlyn [Bruce]
The Secrets of My Life and Decathlon Challenge
NY/Engelwood Cliffs, Grand Central/Prentice-Hall, (2017/1977). Jenner's first book as Bruce and first book as Caitlyn, each
signed by the author
. A forty year span separates the publication dates:
Decathlon Challenge
was published the year after Jenner won the Olympic Gold Medal for the decathlon at the Montreal Summer Games. It is
inscribed by the author
: "To Ken/ Dream Big/ Work Hard/ Bruce Jenner." In the text, Jenner writes, "You've got to be ready to be great. I know that may sound silly, but it's true. Being on the threshold of doing something that you've always dreamed of doing is a very scary experience." This sentiment played out on an even greater scale decades later when Jenner became one of the most famous openly transgender women in the world.
The Secrets of My Life
is
signed by the author
on a publisher's tipped-in leaf and includes a photo of Jenner with a copy of the book and a listing for the event where the book was first purchased. Fine in a fine dust jacket.
Decathlon Challenge
is fine in a very good, price-clipped dust jacket.
[#033027]
SOLD
All books are first printings of first editions or first American editions unless otherwise noted.