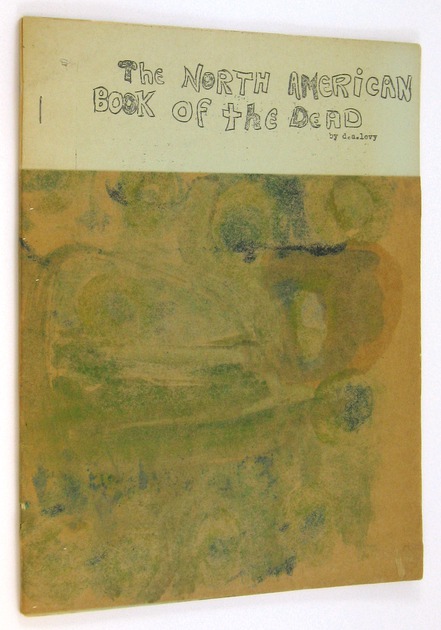 LEVY, D.A.
North American Book of the Dead
Cleveland, 7 Flower Press, 1966. Probably the best-known book by the quintessential hippie-poet of the 1960s, a key figure in the Cleveland, Ohio underground and a writer whose suicide at a young age ensured him a kind of literary immortality that probably would have surprised him. This is the first 7 Flower Press edition and is greatly expanded from the self-published edition Levy did a year earlier, which included only Parts I and II; this edition goes through Part V and, according to Levy has "72 million revisions" in the previously published parts. A mimeographed edition, done in a print run of 210 copies "for friends and editors I want to confuse." Also noted is that a few copies will be for sale at the Asphodel Bookshop, the legendary Cleveland store that Jim Lowell owned, which became the epicenter for underground poetry in the 1960s and beyond. Stapled wrappers with glued-on overlay cover with original painting, each copy being slightly different from the rest; mild toning to pages; very near fine. An uncommon book, and a key poetry title of the Sixties.
[#033026]
SOLD
All books are first printings of first editions or first American editions unless otherwise noted.