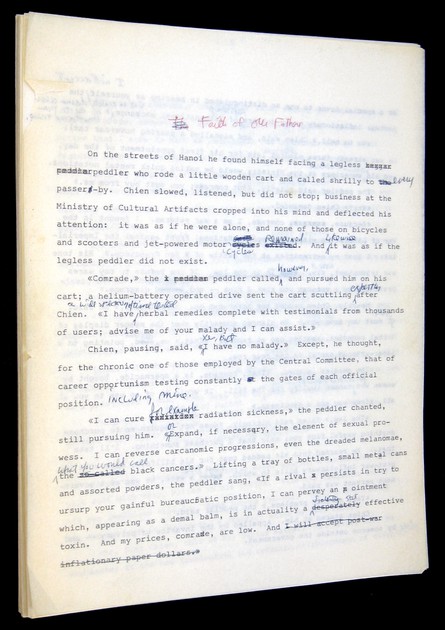 DICK, Philip K.
Typescript of "Faith of Our Fathers"
ca. 1965. The first draft typescript of Dick's story "Faith of Our Fathers," published in 1967 in the collection
Dangerous Visions
, edited by Harlan Ellison. 39 pages, on onion skin paper,
with Dick's holograph corrections throughout
.
Together with
both the manuscript page and the carbon of page 43, representing the final page of Dick's second draft (which was longer than the first draft after emendations).
Nearly 100 changes evident in Dick's hand, plus his handwritten insertion of the title after the typing
. Dick would change the ending once again prior to publication. This manuscript, and the additional sheets, were given to Ray Nelson by Dick during their collaboration on
The Ganymede Takeover
in 1966. In 1986, Nelson gave the pages to Dick's widow, Anne Dick. That mailing envelope is included. Several years later, Anne Dick gifted the manuscript to PKD scholar Sam Umland, from whom it came to us. Anne Dick's autograph note signed to Umland is included. All items, except the mailing envelope from Nelson to Anne Dick, are fine. "Faith of Our Fathers" was nominated for the 1968 Hugo Award for Best Novelette. Since his untimely death at age 53 in 1982, Philip K. Dick has gained the reputation he sought throughout his life -- that of a writer who transcended the science fiction genre. His works are seen as social commentary as much as genre fiction, and his struggles with drugs and with altered states of consciousness -- to the point where reality itself was in question -- have been seen as metaphors for the predicament of humanity in the modern era: alienated, deceived by our leaders and our politics and our religions, and grasping for some measure of understanding in a hall of mirrors. Many of Dick's manuscripts have been institutionalized, and manuscript material by him seldom shows up on the market.
[#033008]
SOLD
All books are first printings of first editions or first American editions unless otherwise noted.
See more items by DICK, Philip K.