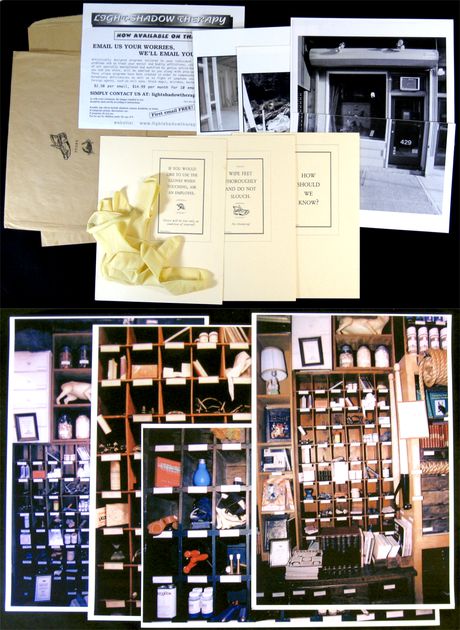 (McSweeney's Store)
An Assortment
Brooklyn, ca. 1999-2003. Artifacts and photos from McSweeney's first retail storefront, called "Store," in Brooklyn, NY, ca. 1999-2003. Assembled by Joe Pacheco, the unofficial "house photographer." Including:
four black & white photos: one showing interior construction, one showing external yard during construction, and two that together show the front door and window display
four large (13" x 19") color photos, showing the inner shelving/cubical displays of odd objects carried by the Store
an uncut proof of a display sign stating, "Policy: wipe feet thoroughly and do not slouch. No thumping!"
an uncut proof of a display sign stating, "If you would like to use gloves when touching, ask an employee." Gloves are included.
an uncut proof of a display sign stating, simply, "How should we know?"
a photocopied Store flyer offering "Light-Shadow Therapy" via email: "Email us your worries, we'll email you the cure!"
two Store paper bags (one folded, one with a small edge tear), featuring the name of the store, "Store," along with a pair of shoes tied together, and a crab.
Flotsam and jetsam retaining the flavor of a nascent McSweeney's undertaking, back at the start of the millennium. Except as noted, all items fine.
[#032960]
SOLD
All books are first printings of first editions or first American editions unless otherwise noted.