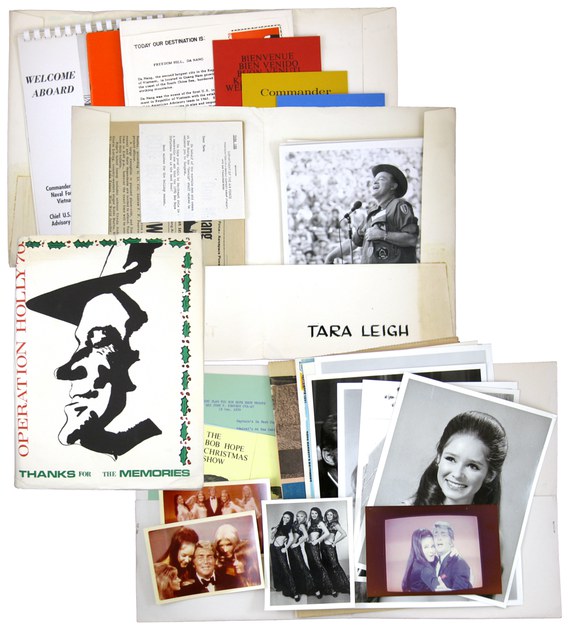 (HOPE, Bob)
Operation Holly '70. Archive of Bob Hope's USO Tour
(n.p.), [United Services Organization], 1970. Collection of materials related to Bob Hope's 1970 U.S.O. tour in Southeast Asia. Touring with Hope were singers Lola Falana, Gloria Loring, and Bobbi Martin; Miss World Jennifer Hosten; baseball player Johnny Bench; and members of the singing and dancing troupe The Golddiggers (originally of
The Dean Martin Show
fame) and their quartet subset The Dingaling Sisters. These materials belonged to Tara Leigh, a member of both the Golddiggers and the Dingalings (and later of
General Hospital
fame). Included, within two official "Operation Holly" cardstock folders, are fifteen 8" x 10" black and white publicity photos of the tour; a welcome note to Leigh from the Department of the Air Force and the Don Muang (Thailand) Herald (a copy of which, announcing the arrival of the tour, is attached); a U.S. Naval Forces primer on operations in Vietnam; an issue of
Americal
, Fall 1970; the Summer 1970 issue of
Tour 365
, "For Soldiers Going Home"; informational booklets on Commander Carrier Division Two, Attack Carrier Air Wing One, and the U.S.S. John F. Kennedy; and a one-page primer on Da Nang, on Operation Holly stationery, with the heading "Today our destination is: Freedom Hill, Da Nang." A third folder, marked "U.S.S. John F. Kennedy CVA-67," seems to have been used by Leigh as a personal scrapbook and holds a half dozen personal publicity stills; four snapshots of her as a Dingaling, three with Dean Martin; a handful of clippings from papers or magazines in which she appeared; the mimeographed berth assignments for the 1970 Bob Hope Show Troupe aboard the U.S.S. John F. Kennedy CVA-67, with a list of the ship's services; and lastly,
The Bob Hope Christmas Show
souvenir program. Except for one of the magazines with an article on The Dingalings, the contents are near fine; the oversized folders are edgeworn and very good. An inside look at an entertainment tour in support of the troops stationed, and fighting, in Vietnam at a time when the polarization in the U.S. about the war was reaching its zenith in the aftermath of the killings of four student antiwar protesters during a demonstration at Kent State University.
[#032916]
SOLD
All books are first printings of first editions or first American editions unless otherwise noted.