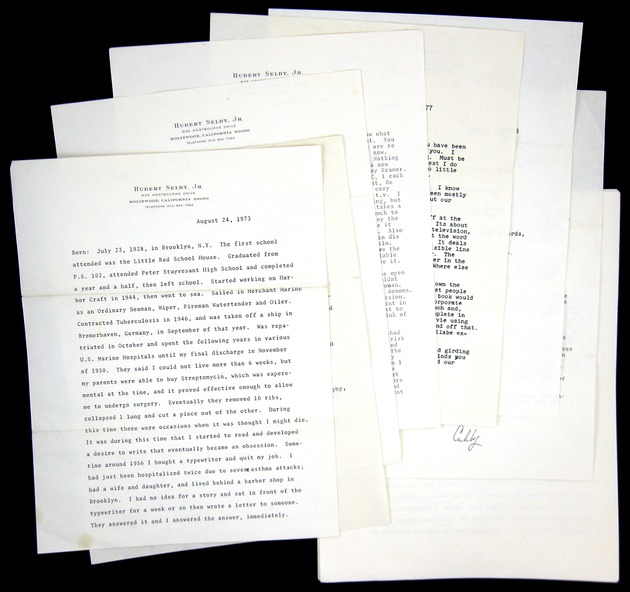 SELBY, Hubert, Jr.
Correspondence Archive
1973-1979. Eleven
typed letters signed
; one
typescript biographical statement
; an 8-page
hand-corrected typescript of a short story
; and an autograph letter signed from Selby's wife, all addressed to Selby's friend, journalist John S. Friedman, who first met Selby after inviting him to speak to his CUNY English class and who later interviewed him for
The Village Voice
. The earliest piece of writing here (August 24, 1973) is the two-page biographical statement, which is un-addressed. Written in essay form it recounts Selby's near-death experience with tuberculosis in his 20s and how that led to his writing obsession, despite his having "no idea for a story," and his six years of locking himself in his bedroom after work to write
Last Exit to Brooklyn
. The letters, written 1974-1981 and spanning three addresses (Los Angeles, New York and Greenwich, Connecticut), cover themes such as working on his novel
The Demon
(unnamed in the letter), but featuring Harry White, "who loved to fuck," while simultaneously working on a play about salvation and a television movie, for Stanley Kramer, about the third Commandment (remembering the Sabbath); finishing his addiction novel
Requiem for a Dream
, which opens with the protagonist locking his mother in the closet ("Naturally it takes place in the Bronx. Where else could that happen?"); family; money; politics; the quest to turn his writing into film; and his health. The 8-page short story typescript included here is "A Little Respect," a manic 1978 take on a parent believing his son's (television) screen time is detrimental to his social skills. Lastly, there is an undated letter to Friedman from Selby's wife, informing Friedman of Selby's hospitalization with pneumonia. In all, roughly 20 full pages of text by Selby during a time in his life dedicated to work and family. Selby's novel
Last Exit to Brooklyn
was one of the taboo-smashing works of fiction published by Barney Rosset's Grove Press in the 1960s, alongside such books as William Burroughs'
Naked Lunch
and the long-suppressed
Tropic
novels of Henry Miller. Its frank depiction of drug use, homosexuality and violence made it a pivotal work of transgressive fiction. Pages folded for mailing; near fine.
[#032905]
SOLD
All books are first printings of first editions or first American editions unless otherwise noted.