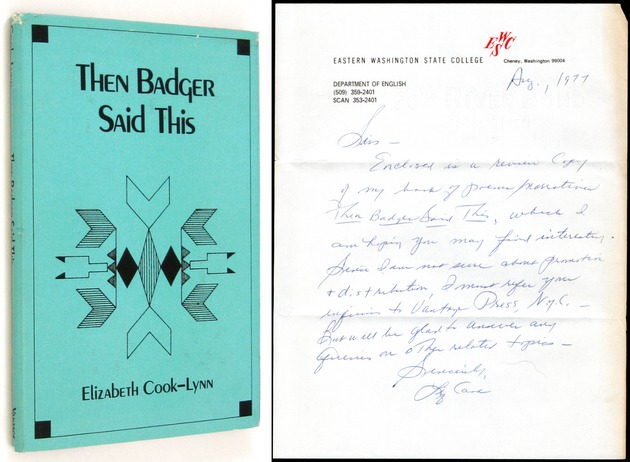 COOK-LYNN, Elizabeth
Then Badger Said This
NY, Vantage Press, (1977). A self-made review copy of the first book by this Crow Creek Sioux author: a collection of stories and poems published by a so-called "vanity press." Vanity press books from this era often received no distribution from their publishers at all, and were eventually pulped; often the only copies that circulated were the ones the author distributed. Vantage Press, which published this book, was one of the oldest vanity presses in the U.S.; it lost a class action lawsuit filed by its authors when a judge determined that its claim to be an actual publisher was fraudulent, and the press did not promote or distribute copies of the authors' books. Cook-Lynn has taken matters into her own hands with this copy,
writing "Review Copy
" on the flyleaf and including an
autograph letter signed, on Eastern Washington State College stationery, dated August, 1977
, and addressed "Sirs." She states that she is enclosing a review copy, which she hopes they "find interesting," and adds "Since I am not sure about promotion & distribution, I must refer your inquiries to Vantage Press, N.Y.C. - But will be glad to answer any queries on other related topics." Signed "Liz Cook." Cook-Lynn is the author of
The Power of Horses
and
From the River's Edge
, among others, and is one of the most highly praised and frequently anthologized Native American writers working today. She has written a novel,
Aurelia: A Crow Creek Trilogy
, and co-authored
The Politics of Hallowed Ground: Wounded Knee and the Struggle for Indian Sovereignty
. The letter is folded in thirds and a bit creased and sunned on the edges; near fine. The book is fine in a near fine dust jacket. Illustrations by two Native American artists, Sam Leader Charge and his wife, Sonny Tuttle. An uncommon book in the original edition, and a rare glimpse of the author's literary beginnings and her efforts to find an audience for her work.
[#032897]
SOLD
All books are first printings of first editions or first American editions unless otherwise noted.
See more items by COOK-LYNN, Elizabeth