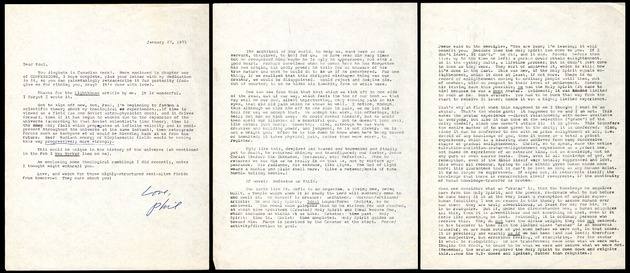 DICK, Philip K.
Typed Letter Signed and Notes for a Scientific Theory of Theological Experiences
1975. A letter dated January 27, 1975 and written to Paul [presumably Paul Williams, Dick's close friend and eventual biographer] transmitting chapter one of
Confessions [of a Crap Artist]
(not included here) and, included here, two pages of "theological ramblings" related to Dick's "beginning to fashion a scientific theory about [his] theological experiences..." The letter covers a bit about the retrograde forces such as tachyons bleeding back at Earth due to the weakening field of time; one of the two pages of notes considers humans' (and Dick's) roles as avatars, with knowledge received from the Holy Spirit; the other page considers our inability to recognize God and postulates a "SF novel: Hefestus as VALIS" -- a very early mention of the acronym Dick developed for the "Vast Active Living Intelligence System" that he considered to be the nature of reality and the universe, after his psychological/religious epiphanies that he experienced in February and March of 1974. The theological writings are from the early pages of what came to be known as his
Exegesis
, which, by the time of his death in 1982, had reached over 8000 pages of religious and metaphysical insight and speculation. The letter,
signed by Dick
, runs about 225 words; the theological musings about 950 words. Near fine.
[#032866]
$8,500
All books are first printings of first editions or first American editions unless otherwise noted.
See more items by DICK, Philip K.