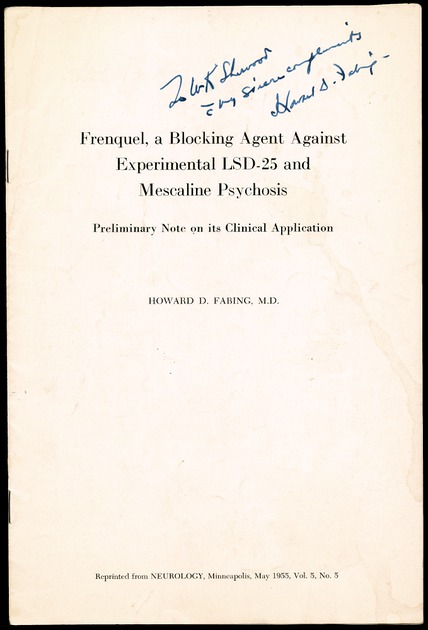 FABING, Howard D., M.D.
Frenquel, a Blocking Agent Against Experimental LSD-25 and Mescaline Psychosis
Minneapolis, Neurology, 1955. An offprint from the May 1955 issue of
Neurology
by a medical doctor who was a founder and president of the American Academy of Neurology and a president of the Society of Biological Psychiatry.
Inscribed by the author
: "To W K Sherwood/ c my sincere compliments/ Howard D. Fabing." An early paper on the use of LSD in clinical applications, and treatment of side effects. LSD's psychedelic properties were inadvertently discovered in 1943, by Albert Hofmann, who had first synthesized the drug in 1938 from ergot, a fungus. In the 1950s its possibilities as a therapeutic tool, a chemical weapon, and a means of mind control were all being studied, among other uses. Fabing's paper deals with treating the side effect of psychosis, known to be a risk with the use of LSD and other psychedelics. In addition to his scientific publications, Fabing also wrote a number of articles for
Harper's
magazine, on psychedelic mushrooms, the treatment of epilepsy, and other subjects. 10 pages, side-stapled. Light staining to covers, else near fine.
[#032816]
SOLD
All books are first printings of first editions or first American editions unless otherwise noted.