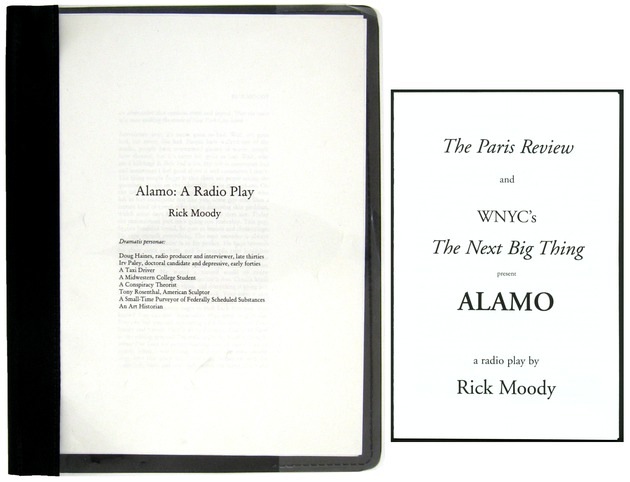 MOODY, Rick
Alamo: A Radio Play
(n.p.), (n.p.), [2002]. A 25-page script for Moody's radio play, about an art student obsessed with the rotating cubical sculpture in New York City's Astor Place entitled Alamo but commonly known as "the cube." The play first appeared in
Paris Review 162
, but it was performed as part of WNYC's public radio show, "The Next Big Thing." This script for the performance belonged to Tony Award-winning actor and "Wilson" of television's
House
, Robert Sean Leonard, who here played the main character, Irv Paley.
Leonard's holograph markings and comments appear in the text
, i.e., a working copy of the script.
Together with
a program for the performance listing the cast members and other principals, and a two-page interview with the sculptor of "Alamo," Tony Rosenthal who, among other things, explains where the sculpture got its name. Among the other cast members is Peter Dinklage, currently of
Game of Thrones
fame. George Plimpton is credited with "Stage Directions" an Moody as Playwright. The place of the performance is not identified, but it would appear that this performance was the one that was recorded for radio play on WNYC in 2002: apparently it was performed again on WNYC in 2004, with a different cast; the later cast included Miranda July and Ethan Hawke. The script is a computer printout on three hole-punched sheets, one sheet of which is recycled from another script, in a plastic binder. Near fine. A unique copy of a rare printed version of an uncommon work by Moody.
[#032804]
SOLD
All books are first printings of first editions or first American editions unless otherwise noted.