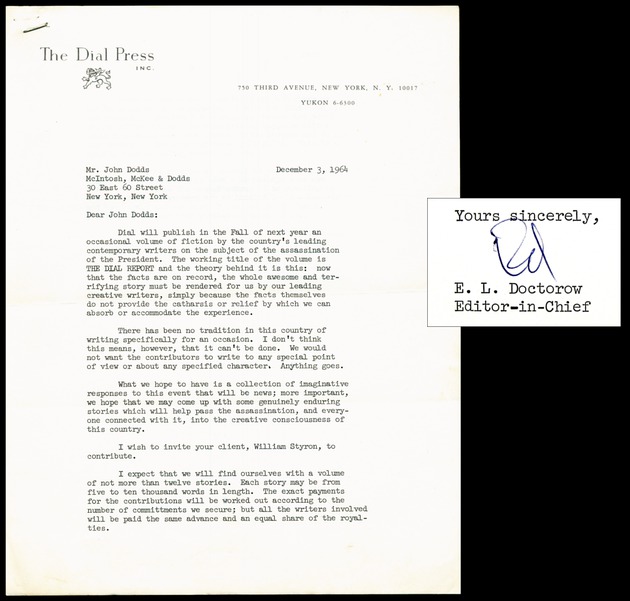 DOCTOROW, E.L.
Typed Letter Signed
1964. December 3, 1964. Just over a year after the assassination of President John F. Kennedy, Doctorow, in his position as editor-in-chief at The Dial Press, writes to William Styron's agent, John Dodds, asking for Styron's participation in a "volume of fiction by the country's leading contemporary writers on the subject of the assassination of the President." Doctorow's page-and-a-half letter is in large part an explication of the concept of the book and, by extension, his views on the place of literature in society, in part: "now that the facts are on record, the whole awesome and terrifying story must be rendered for us by our leading creative writers, simply because the facts themselves do not provide the catharsis or relief by which we can absorb or accommodate the experience...we hope that we may come up with some genuinely enduring stories which will help pass the assassination, and everyone connected with it, into the creative consciousness of this country." Doctorow notes that "There has been no tradition in this country of writing specifically for an occasion. I don't think this means, however, that it can't be done." Nonetheless, we could find no evidence of the book's publication.
Signed by Doctorow, as "Ed
." Two pages, stapled in the upper corner, folded in thirds but also in half; near fine. Doctorow is most well-known as "One of America's greatest novelists," as Barack Obama called him. His list of literary awards is long, and the fact that he was editor-in-chief of a major New York publisher at the age of 33 is nothing short of remarkable. An extraordinary and revealing letter about an ambitious but never-produced book project.
[#032763]
SOLD
All books are first printings of first editions or first American editions unless otherwise noted.
See more items by DOCTOROW, E.L.