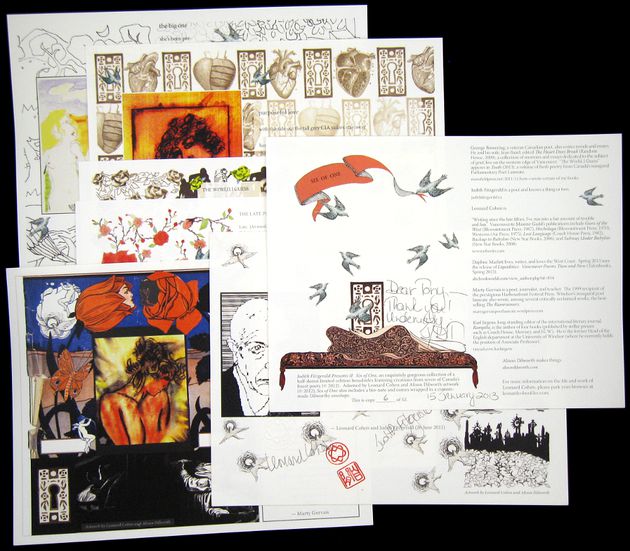 (COHEN, Leonard)
Judith Fitzgerald Presents II: Six of One
[Toronto], [Rampike], 2012. A collection of six limited edition broadsides, plus a biographical page, from seven Canadian poets: Leonard Cohen, George Bowering, Daphne Marlatt, Marty Gervais, Karl Jirgens, Maxine Gadd, and Judith Fitzgerald, with artwork by Cohen and by Alison Dilworth. This is copy No. 6 of 52 numbered sets, which were issued as a fundraiser for BookFest Windsor, a literary festival in Ontario, Canada.
Signed by Cohen and Fitzgerald
on the broadside of their joint contribution, entitled "Blood Culture," and
also stamped with Cohen's personal chop, and embossed with his "Order of the Unified Heart" logo
. Additionally inscribed by Fitzgerald on the biographical page. Cohen's biographical statement reads, "Leonard Cohen is." Judith Fitzgerald was a highly respected Canadian poet, and one of the organizers of BookFest Windsor. She and Cohen were longtime friends, and Cohen's allowing her to use his artwork and print a poem as a fundraiser was a way for him to contribute to the festival. The sets were issued unsigned; this is
one of four
that were signed by Cohen, according to a Fitzgerald email. She called it "the second rarest set," because of the additional stamps, not to mention her own inscription. A unique item as such, and a rare signed Leonard Cohen piece. Together with a review copy of Fitzgerald's last book,
Impeccable Regret
, which includes a poem she co-wrote with Leonard Cohen. All broadsides fine, 11" x 8-1/2", in a hand-crafted Dilworth envelope; the book is fine in wrappers.
[#032759]
SOLD
All books are first printings of first editions or first American editions unless otherwise noted.