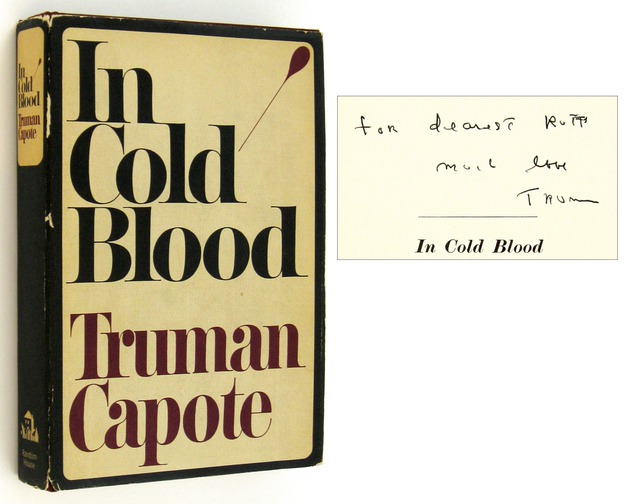 CAPOTE, Truman
In Cold Blood
NY, Random House, (1965). His most famous book, a story of the cold-blooded killing of a Kansas family that was shocking in its day for its portrayal of the lives and thoughts of the killers, as well as its graphic violence, and a bestseller that redefined the boundaries between fiction and nonfiction and helped define the New Journalism of the 1960s.
Inscribed by Capote to Ruth Ford
: "For dearest Ruth/ much love/ Truman." Ford, the film and stage actress, who was the sister of Charles Henri Ford and a longtime friend of William Faulkner's in her native Mississippi, became known for the gatherings she hosted at her apartment at the Dakota building in Manhattan, with guests such as Edward Albee, Tennessee Williams, and Truman Capote, among many others. Ford had invited Capote to join Faulkner and herself for a drink at her apartment in 1951, when Capote was a young, up-and-coming writer and Faulkner was, of course, one of the great American writers of the day, having won the Nobel Prize for Literature a year earlier. In an anecdote recounted in Joseph Blotner's biography of Faulkner, a half-drunk Capote began disparaging Hemingway's latest novel and Faulkner called him up short on it. Ford collaborated with Faulkner of the play "Requiem for a Nun," in which she would star when it opened in 1959. In 1971, she starred in an ill-fated musical adaptation of Capote's
The Grass Harp
. An excellent association copy: Ford was at the center of the New York literary scene for decades, friends with virtually everyone and, by the time of the publication of this book, a friend of Capote's for at least 15 years. Unsigned, the book is not especially scarce in the first printing -- it had caused a sensation when portions appeared in
The New Yorker
, and therefore it had a large first printing; however, because of its soft paper dust jacket, it is a book that shows wear readily. There was a signed limited edition done, but signed or inscribed trade editions are relatively uncommon, and good association copies extremely scarce. This copy is fine in a near fine dust jacket with modest wear to the edges and folds, and is now housed in a custom clamshell case.
[#032746]
SOLD
All books are first printings of first editions or first American editions unless otherwise noted.
See more items by CAPOTE, Truman