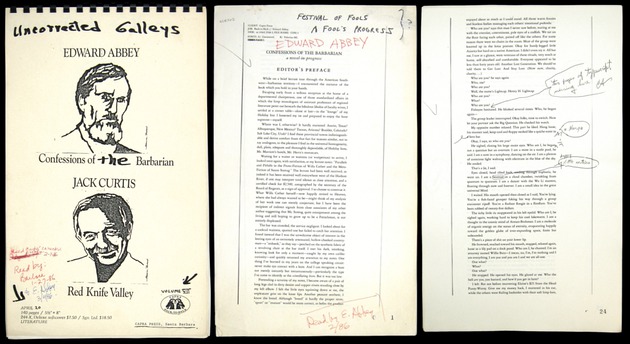 ABBEY, Edward
Galley Sheets for Confessions of the Barbarian
Santa Barbara, Capra Press, [1986]. Two sets of galley sheets, one bound and one unbound, for the small Capra volume,
Confessions of a Barbarian
, which was an advance excerpt of the book later published as
The Fool's Progress
. Two sets of sheets, each on legal-sized paper and printed on rectos only. 42 pages, including the "Editor's Introduction" in which Abbey recounts his first meeting with "Henry Lightcap," the narrator of the novel. The first set of sheets, unbound, has the alternate titles "Festival of Fools" and "A Fool's Progress" written at the top, with a question mark, and "read by E. Abbey 2/86" written across the bottom. The second set, comb-bound at the top, includes a pictorial cover and the text of "Red Knife Valley" by Jack Curtis, which was bound back-to-back with the Abbey piece in the finished book. This second set is marked as having been read by E. Abbey on 3/4/86. Both versions have been copy-edited. On several pages in the unbound version, Abbey has served as his own copy editor: on page 24 in the first version
Abbey himself writes: "two pages of typescript missing here," and signs the comment, "EA
." The two pages of heavily corrected (photocopied) typescript are inserted into the second version. And on page 29 of the first version, under the typeset message "NOTE! Manuscript pages 46 & 47 need to be inserted here. I did not receive them,"
Abbey again interjects: "Yes you did," and initials there, "EA
." These additional two photocopied and corrected "missing" pages are also laid into the second version. In a few other places Abbey has corrected typos, although without signing his edits, and he has used the verso of one sheet to make a note, presumably to himself, apparently about a sizable bank deposit. Both sets of galleys are fine and laid into one custom clamshell case. A unique, working copy of one of Abbey's last books: he died shortly after the full-length version of
The Fool's Progress
was published. Working copies of his books and papers seldom appear in the marketplace; most have been sold or donated to institutions.
[#032730]
SOLD
All books are first printings of first editions or first American editions unless otherwise noted.
See more items by ABBEY, Edward