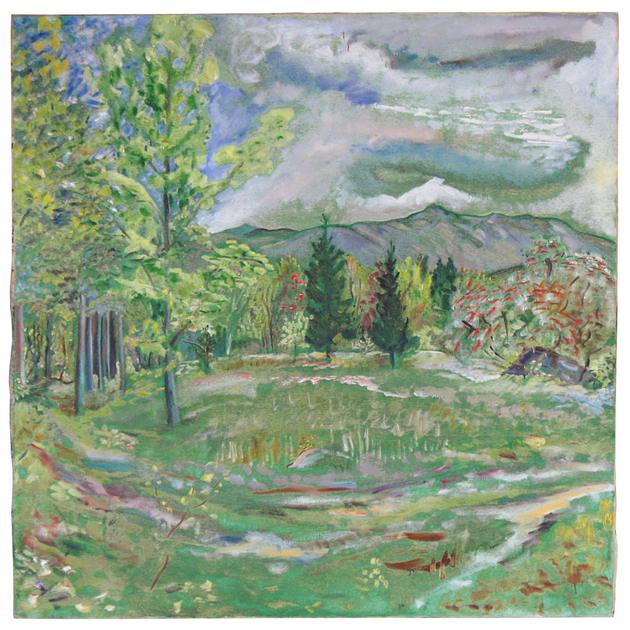 CUMMINGS, E.E.
Signed Painting of Mount Chocorua
[c. 1939]. A painting by Cummings of New Hampshire's Mount Chocorua, one of the most frequent subjects of his paintings, as seen from Joy Farm, his home in Silver Lake, NH. Pictured is a clearing before a line of trees in the foreground, with Chocorua rising under cloudy skies in the background. Likely created during the early fall of 1939, based on other (smaller) paintings we have seen, with a similar viewpoint and palette, during a time when Cummings would devote the mornings to painting and the afternoons to poetry. The artist Cummings most admired was Paul Cezanne, and Cummings used Mount Chocorua the way Cezanne used Mont Saint-Victoire, as a way to explore not just the subject but the various ways of treating the subject. His willingness and freedom to vary his style and palette while painting the "same" subject under wildly different conditions was perhaps the greatest legacy he took from his idol: Cezanne painted his mountain over 60 times; Cummings painted Chocorua at least that many. Oil on canvas. This is (for Cummings) a very large image: 42" x 42".
Signed by Cummings
on the verso. Cummings seldom signed his works and painting carries the largest Cummings signature we have encountered, measuring 5-1/2" across. Provenance: the family of James Stribley Watson, owner of
The Dial
and a lifelong friend and benefactor to Cummings. Fine.
[#032728]
SOLD
All books are first printings of first editions or first American editions unless otherwise noted.
See more items by CUMMINGS, E.E.
Visit the E.E. Cummings Art website