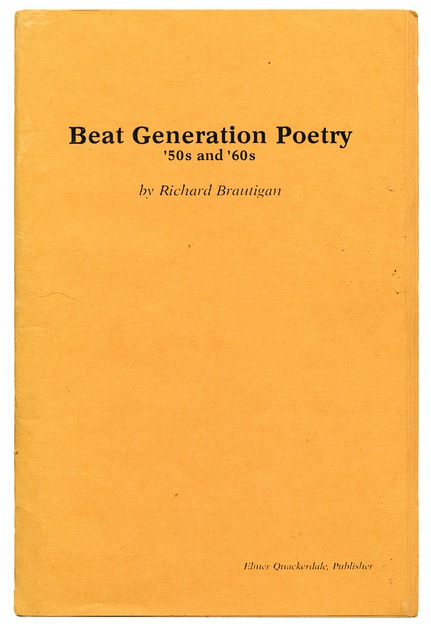 BRAUTIGAN, Richard
Beat Generation Poetry '50s and '60s
(n.p.), Quackerdale, [ca. 1968 or later]. A Brautigan poetry collection, apparently pirated, "published" by "Elmer Quackerdale." 33 Brautigan poems and an epigraph from
The Pill Versus the Springhill Mine Disaster
. Brautigan's
Trout Fishing in America
was published in 1967 and quickly became an underground bestseller, going into multiple printings - his first book to do so - and encouraging his publisher to issue his next book,
In Watermelon Sugar
, the following year. By this time, however, Brautigan's collections of poems that had been published in the late 1950s and early 1960s were long out-of-print and this collection reprints a number of those as well as several more recent poems. We have never seen this collection before, and can find no record of its existence: there is no mention of it online at brautigan.net, a clearinghouse for information on the poet, and OCLC has no listings for it. It is possible it is a one-off, unique item, but the typesetting and the fictitious publisher name both suggest that it is an unrecorded piracy, circa late 1960s or 1970, designed to bring together a number of Brautigan's hard-to-find poems along with some of his recent and iconic ones, such as "All Watched Over by Machines of Loving Grace."
Printed on unbound gold sheets, a single poem per page, folded to make a booklet roughly 5-1/2" x 8-1/2". Slight creasing to the rear cover; very near fine.
[#032702]
SOLD
All books are first printings of first editions or first American editions unless otherwise noted.