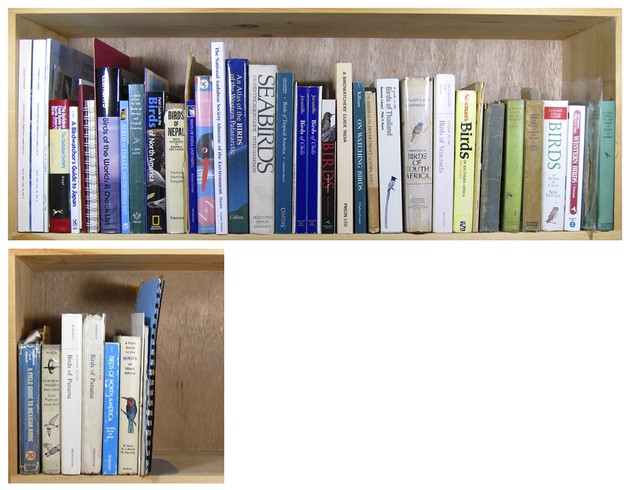 (MATTHIESSEN, Peter)
Personal Library of Bird-Related Books
Research material from the library of Peter Matthiessen. Approximately 50 titles related to Matthiessen's life as a birder, including regional guides, field guides, birders' checklists and more -- a working library, as opposed to a collection of books about birds. Matthiessen wrote two books explicitly about birds:
The Shorebirds of North America
(later republished as
The Wind Birds
) and
The Birds of Heaven: Travels with Cranes
, an examination of all of the known varieties of cranes, their various habitats, and their intersection with human activities through the ages, and their prospects for survival in our age. But birds also cast a high profile in many of Matthiessen's other books, and this library shows that: even as he was traveling to research books on completely different subjects, he was also traveling as a birder -- someone acutely conscious of the birds inhabiting the places he visited. In
The Birds of Heaven
, he makes the case that the birds' fates are closely entangled with our own, and offers a perspective on the birds that can be generalized as an attitude of respect for all creatures and of humility in a world that is much more than just human. Many, if not most, of the books in this group are marked up by Matthiessen; some show the wear and tear of having been carried with him. A unique glimpse at the fieldwork of an important American author, and a useful research library on the birds of the world. A detailed list is available on request.
[#032450]
SOLD
All books are first printings of first editions or first American editions unless otherwise noted.
See more items by MATTHIESSEN, Peter