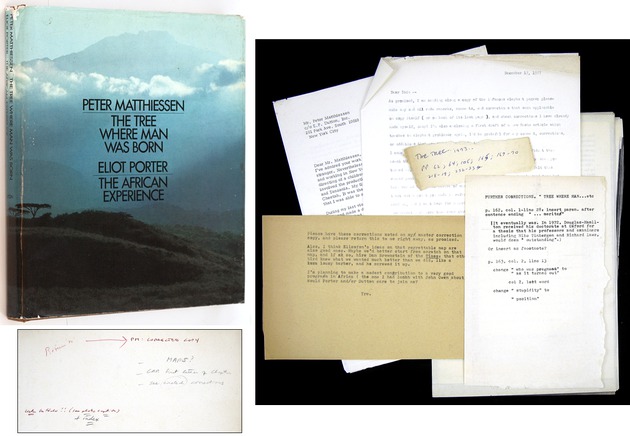 MATTHIESSEN, Peter
The Tree Where Man Was Born
NY, Dutton, 1972.
Peter Matthiessen's own working copy
of this nonfiction book about Africa, which was a finalist for the National Book Award, with text by Matthiessen and photographs by Eliot Porter. "PM: Corrected Copy" written in Matthiessen's hand on the flyleaf, and with dozens of changes both by him and apparently by a copyeditor. In addition, marked by Matthiessen on a half dozen pages, as though for a reading, with a piece of scrap paper laid in noting those pages numbers. Also with a dozen pages of photocopies from a section on elephants laid in (taken from the paperback edition) with an exchange between Matthiessen and his editor on it, and a retained copy of a two-page 1977 letter from Matthiessen to his editor (Iain) transmitting the copy "of the infamous elephant pages," apologizing for a prior argument: "...how obtuse of me not to realize...that there might be certain prudish readers who would see what you rightly called love of life not as generous and spirited, as I intended, but as mere recklessness and folly...." He continues with more specifics about both the writing and the friendship. Two retained copies of lists of additional corrections are laid in, one addressed to "Jack" and "based on Elisofon's review in Natural History Mag." There is also a 1978 letter laid in to Matthiessen from a filmmaker hoping to make a documentary about the Dorobo of Kenya and Tanzania. The book itself is the correct first edition, in brown cloth, in the first issue dust jacket with both the $17.50 price and the introductory $14.95 price, good until October 25, 1972. After the date mentioned, the first issue jackets were clipped so that only the higher price showed; later issue jackets were unclipped and only had the higher price. Approximately 10 pages paperclipped at the top edges; the endpages are foxed; a very good, working copy, in a very good dust jacket. An historic collaboration between the preeminent writer on and the leading photographer of the natural world, this being a unique copy.
[#032377]
SOLD
All books are first printings of first editions or first American editions unless otherwise noted.
See more items by MATTHIESSEN, Peter