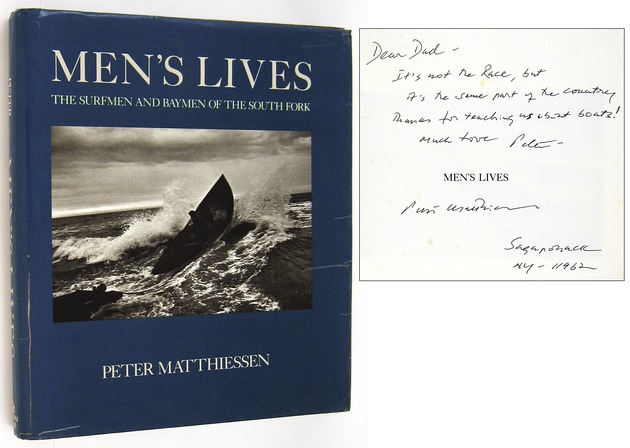 MATTHIESSEN, Peter
Men's Lives. The Surfmen and Baymen of the South Fork
NY, Random House, (1986). A volume about the fishermen of eastern Long Island and a way of life that, in the late stages of the 20th century, appeared to be irretrievably dying away. Matthiessen spent much of his life on eastern Long Island, and once ran a charter fishing boat off the island in addition to having worked for three years with commercial fishermen, so this sympathetic portrait was written from the perspective of one who, at least for period of a time, shared the life described.
Inscribed by Matthiessen to his father
: "Dear Dad - It's not the Race, but it's the same part of the country/ Thanks for teaching us about boats! Much love/ Pete/ Sagaponack NY 11962." [Zip code added, rather than date.] Also
signed in full, "Peter Matthiessen
," on the same page. The reference to "the Race" is to Race Rock, a reef off the coast of eastern Long Island, famous for its lighthouse and for being a hazard to sailors; it also gave Matthiessen the title for his first novel, published in 1954. Creasing to the last 20 pages; minor dampstaining to the lower edges; a very good copy in a very good, price-clipped dust jacket. An excellent family association, and one that sheds light on family and personal history.
[#032353]
SOLD
All books are first printings of first editions or first American editions unless otherwise noted.
See more items by MATTHIESSEN, Peter