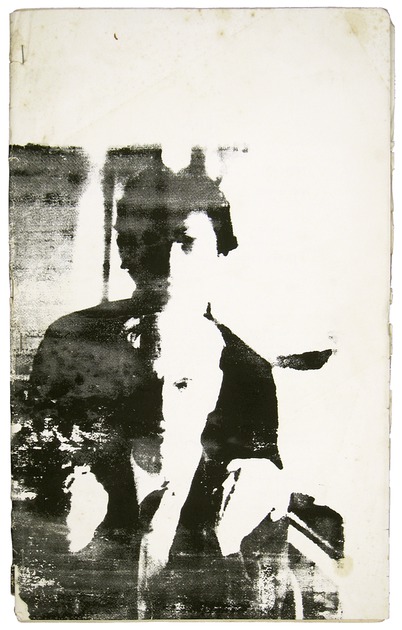 (WARHOL, Andy). BERRIGAN, Ted, ed.
C: A Journal of Poetry. Vol. 1 No. 4
New York, Lorenz Gude & Ted Berrigan, 1963. The fourth issue of this mimeographed poetry journal, this issue being devoted to the work of poet Edwin Denby, with contributions by him as well as pieces about his work by Berrigan, Frank O'Hara and John Wieners. It is most famous at this point for the cover, which "was designed by Andy Warhol from photographs of poets Edwin Denby and Gerard Malanga." Warhol took a number of Polaroid photographs of Denby and Malanga and then created a silk screen from them for the covers. The clarity and resolution of the images vary from copy to copy of the production, either as a result of the screen getting clogged by re-use or as a result of deliberate manipulation by Warhol; in this copy, the images on the front are clearly two individuals but the resolution is limited and the image presents almost as an abstraction; the rear cover, which is a shot of the two poets kissing, is in this copy virtually entirely abstract. An early and important Warhol production: this is the first known instance of Warhol using Polaroid photographs for making silkscreen images, a practice he came back to later and became his standard approach for portraits. Corrections to the text in Berrigan's or Denby's hand. Some edge wear to the covers and the spine, and a tear at the base of the spine; overall very good in stapled wrappers.
[#032338]
$6,500
All books are first printings of first editions or first American editions unless otherwise noted.