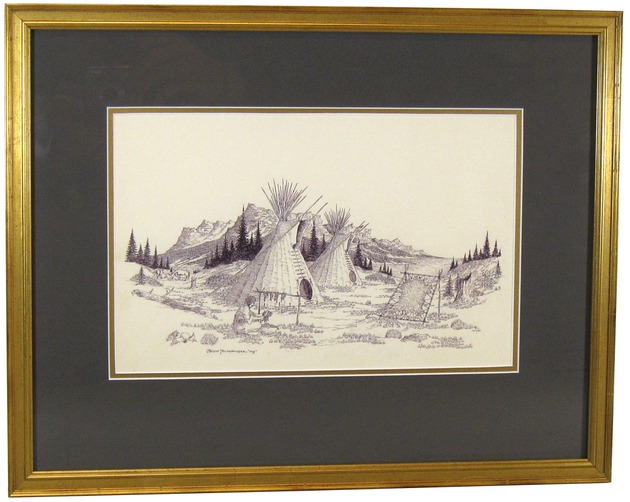 TAILFEATHERS, Melvin
Original Art
1977. Original art by the self-taught Blackfoot artist Melvin Tailfeathers, purchased directly from the artist by a couple who lived in Browning, Montana, on the Blackfoot Reservation, in the 1970s. Tailfeathers, in addition to being a cartoonist for the
Glacier Reporter
, was the illustrator of eight volumes of the 140 stories in the Indian Reading Series that was published by the Northwest Regional Educational Library, with funding from the National Institute of Education, from 1972-1983. The images offered here are, like his illustrations, of traditional Blackfoot scenes, but rendered with a seriousness that his children's book illustrations are at some pains to soften, and done without any of the cartoonist's style that helped make the book illustrations as welcoming and accessible as they are. A very detailed ink drawing of a Native American woman sitting on the ground slicing meat for strips of jerky after scraping a skin that is depicted being stretched on a drying frame outside of two tipis, and set against a mountainous background. 12" x 8", matted and framed to 17-1/2" x 14".
Signed by Tailfeathers
and dated 1977. Fine.
[#032311]
SOLD
All books are first printings of first editions or first American editions unless otherwise noted.