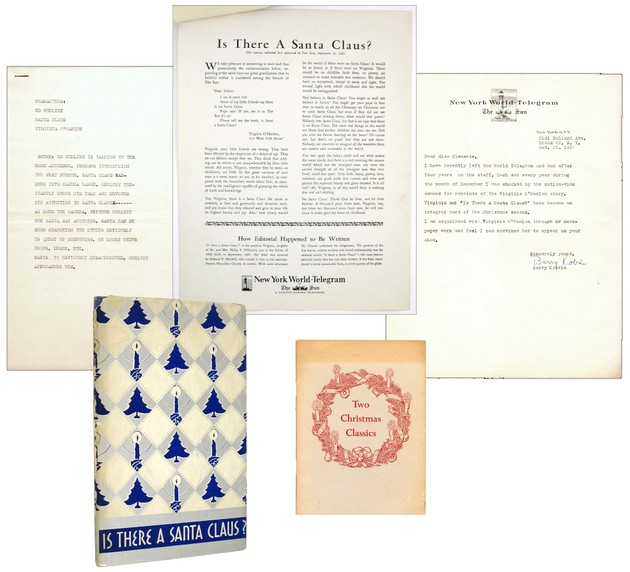 CHURCH, Francis P.
Small Archive Related to Yes, Virginia, There is a Santa Claus
(various), (various), (1956, 1968). In 1897, eight year-old Virginia O'Hanlon wrote a letter to the editor of the
New York Sun
, asking, in part, "Papa says, 'If you see it in
The Sun
it's so.' Please tell me the truth; is there a Santa Claus?" The reply of Editor Francis P. Church read, in small part, "Yes, Virginia, there is a Santa Claus. He exists as certainly as love and generosity and devotion exist, and you know that they abound and give to your life its highest beauty and joy. Alas! how dreary would be the world if there were no Santa Claus! It would be as dreary as if there were no Virginias...." Church's response became the most reprinted English language newspaper editorial in history. When Virginia O'Hanlon died, in 1971, friends formed a press to publish the editorial and its back story as a children's book; in 1974, the book became an Emmy Award-winning animated television special; and, in 2009, it became a CGI animated television special entitled simply, "Yes Virginia." The items offered here all predate the story's book and animation fame, and include the typescript of a 1956 television appearance by O'Hanlon, a
Sun
broadside of the editorial, and
Two Christmas Classics
, which is likely the editorial's first appearance in book form, in 1968. The lot is as follows: 1. The 3-page typescript of a 1956 segment of the television show
The Children's Hour
, hosted by Ed Herlihy, with guest appearances in this episode by Santa Claus and by Virginia O'Hanlon, who would have been in her late 60s. In it, Santa asks Herlihy if there really is a Virginia, and Herlihy introduces "Dr. Laura Virginia O'Hanlon Douglas," using her married name (kept after her divorce), acknowledging her doctorate (from her career as an educator), and revealing that "Virginia" was actually her middle name. Herlihy then recounts the story of the editorial, and O'Hanlon is given unscripted time to talk about events since, followed by her own reading of Francis P. Church's famous response to her younger self. These pages are stapled to: 2. An undated
New York World Telegram/The Sun
broadside of the full editorial, entitled "Is There a Santa Claus?," and adding a paragraph at the bottom on "How Editorial Happened to Be Written." 3. A cover letter is included, written on
New York World Telegram
letterhead and dated October 21, 1956, from a former employee of the paper to "Miss Clements" (Alice Clements, producer of
The Children's Hour
), saying that he is acquainted with O'Hanlon and feels he can convince her to appear on the show, adding, "Each and every year during the month of December I was shocked by the nation-wide demand for reprints of the Virginia O'Hanlon story." These three items are folded in half, and the corner staple is rusted; they are otherwise near fine. 4.
Together with
the chapbook
Two Christmas Classics
, issued by Columbia University Press, ca. 1968, and printing both Church's editorial and Clement Clarke Moore's
A Visit from Saint Nicholas
("Twas the night before Christmas") as a holiday keepsake, as both Church and Moore were graduates of Columbia College. (Coincidentally, O'Hanlon received her Masters Degree from Columbia.) The chapbook also prints brief, anonymous, introductions to each. Approximately 4-3/4" x 6-1/2", edge-sunning to the front cover; near fine in stapled wrappers, with a holiday greeting laid in that is signed by Carl B. Hansen, of Columbia University Press. A relatively early grouping of items in the enduring legacy of one child's curiosity and Church's timeless response embodying the meaning of Christmas.
[#032276]
$2,000
All books are first printings of first editions or first American editions unless otherwise noted.