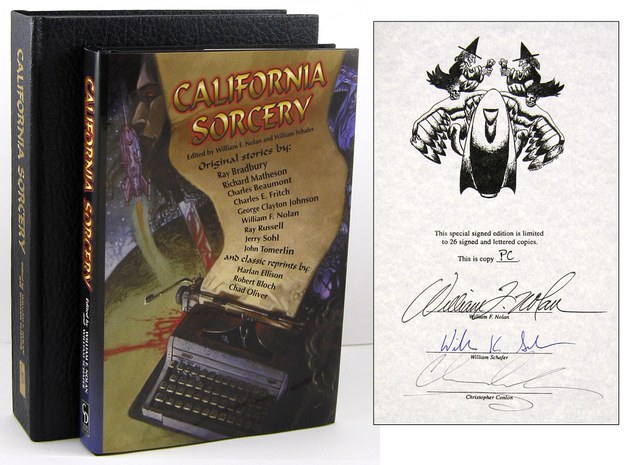 BRADBURY, Ray; MATHESON, Richard; BEAUMONT, Charles; NOLAN, William F.; et al.
California Sorcery
(Abingdon), Cemetery Dance, 1999. A "Publisher's Copy" (PC) of the limited edition (26 copies) of this collection of original stories by the science fiction and dark fantasy writers who came to be known as the "California School," including Bradbury, Matheson, Beaumont, Nolan, Charles E. Fritch, Ray Russell, Jerry Sohl, John Tomerlin, and George Clayton Johnson, with additional classics by Harlan Ellison, Robert Bloch, and Chad Oliver.
Signed by Bradbury, Matheson, Ellison, Nolan, Tomerlin, Sohl, Fritch
, and others. Stamp of another author front flyleaf; fine in a fine dust jacket, in the publisher's printed tray case.
[#032264]
SOLD
All books are first printings of first editions or first American editions unless otherwise noted.