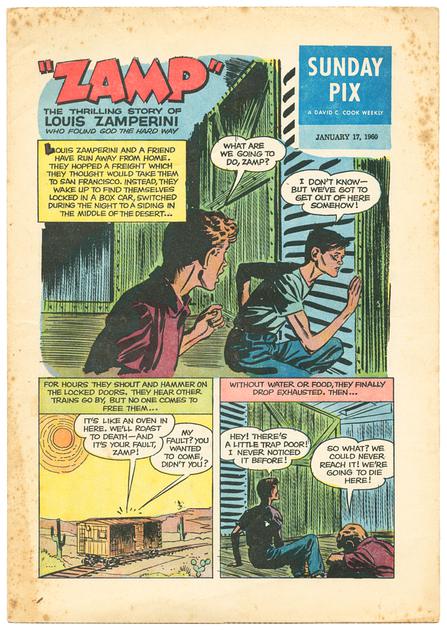 (ZAMPERINI, Louis)
Sunday Pix, Vol. 12, No. 3
(Elgin), David C. Cook, (1960). A "Sunday School Weekly" in comic book form, with inspirational Christian stories and messages for children and teens. The cover story on this issue is "'Zamp,' The Thrilling Story of Louis Zamperini, Who Found God the Hard Way." Zamperini's memoir,
Devil at My Heels
, about his experiences as an Olympic distance runner, World War II POW, and Christian speaker, was published in 1956. This serialization was the first appearance of the story for a younger audience. It is unknown to us how many issues the story ran, but this issue, which is apparently the only one where the story gets the cover, covers part of Zamperini's youth, from running away to his early running career. Zamperini's story became modern day legend when Laura Hillenbrand wrote his bestselling biography,
Unbroken
, in 2010; and Angelina Jolie turned the book into film in 2014. Also in 2014, Hillenbrand released a young adult version of her book, nearly 55 years after this attempt to bring the story to a younger audience. Marginal foxing, mostly on the front cover; very good in wrappers.
[#031777]
$45
All books are first printings of first editions or first American editions unless otherwise noted.