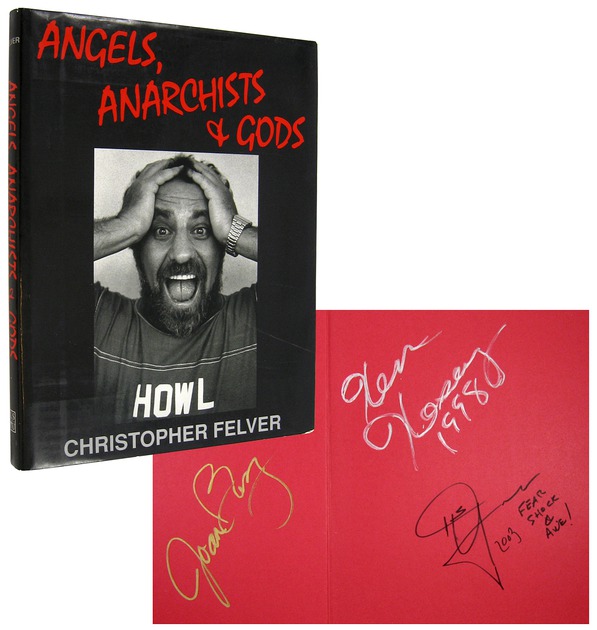 FELVER, Christopher
Angels, Anarchists & Gods
Baton Rouge, Louisiana State University Press, 1996. Photographs of authors, artists, musicians and politicians, from the last quarter of the 20th century, emphasizing "individuals whose lives and works nourish America's historic dream of freedom, justice and human decency... [and] are not afraid of controversy or challenging the status quo." Subjects of the photographs tend to be from the counterculture or the artistic fringes rather than the mainstream, although a number of them such as novelist Kurt Vonnegut, naturalist and writer Peter Matthiessen, and environmentalist David Brower, became important forces in the mainstream culture. Many of the key figures of the Beat generation are included, and a large number of artistic and musical innovators as well. This copy is
signed by a number of the subjects of the photographs, including Timothy Leary, Toni Morrison, David Byrne, and by Douglas Brinkley
, who provides an introduction. In addition,
signed three times by gonzo journalist Hunter S. Thompson (once with "Fear Shock & Awe! 2003" and once with "Fear Bush/2003"); signed twice by counterculture icon Ken Kesey; and also signed by folk music legend Joan Baez
. Corners slightly tapped, else fine in a fine dust jacket. A unique copy.
[#031739]
$2,500
All books are first printings of first editions or first American editions unless otherwise noted.