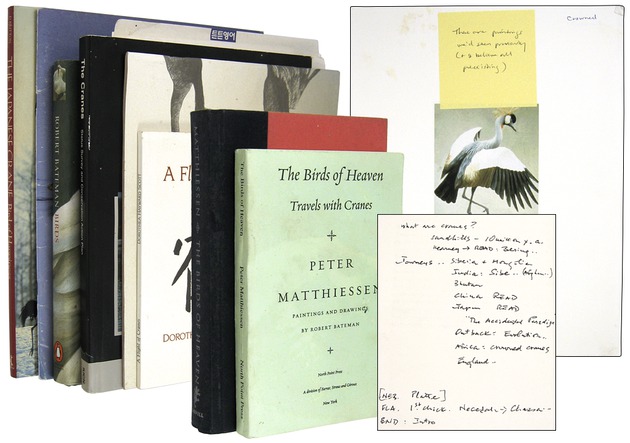 MATTHIESSEN, Peter and BATEMAN, Robert
The Birds of Heaven Archive
NY, North Point, 2001.
The Birds of Heaven
is Matthiessen's account of his journeys in search of the fifteen species of cranes, illustrated with paintings and drawings by Robert Bateman, a close friend of Matthiessen's. This small archive includes research materials as well as Matthiessen's own marked copy of the uncorrected proof of the published book; his copy of the U.K. edition; samples of Robert Bateman's artwork; and a Bateman-Matthiessen association copy (of another title), as follows:
Matthiessen, Peter. The Birds of Heaven. NY: North Point Press (2001). As mentioned, Matthiessen's own copy of the uncorrected proof. Several passages marked in Matthiessen's hand. Although there are apparently some textual differences between the proof and the published version, these markings seem to be for a reading by Matthiessen, with his outline for the reading written on the last blank. Obviously a used copy, with some staining to the covers.
Matthiessen, Peter. The Birds of Heaven. London: Harvill (2002). Matthiessen's own copy of the first British edition, with 20 pages of color reproductions of Bateman's paintings. Minor mottling to spine cloth; a very good copy, lacking the dust jacket.
Britton, Dorothy and Hayashida, Tsuneo. The Japanese Crane. Bird of Happiness. Tokyo: Kodansha (1981). Predominantly a picture book, with Matthiessen's underlinings and markings. Fine in a near fine dust jacket. Gift card laid in, announcing the book as a belated wedding gift.
Scott, Dorothy Hayward. A Flight of Cranes. (Exeter): Denvill Press (1990). Stories, poems, and "Cranes of the World," published as a fundraiser for the International Crane Foundation. With Matthiessen's underlinings and markings. Four pages of prelims detached and laid in.
Schoff, Gretchen Holstein. Reflections: The Story of Cranes. (Baraboo): International Crane Foundation (1991). Inscribed by the author, though not to Matthiessen. With Matthiessen's notes covering the title page, for the most part a listing of which cranes can be found where, when. Stapled wrappers. Laid in is a 12" feather.
Meine, Curt D. and Archibald, George W. The Cranes. (Gland): IUCN (1996). A 300-page survey and conservation plan. Archibald would later provide a foreword for The Birds of Heaven. Laid in are three issues of The Bugle, the newsletter of the International Crane Foundation, from 2000 and 2001, the earliest issue with Matthiessen's underlinings and notations; an article on bar-headed geese; a copy of an article on cranes in Korea's demilitarized zone; a photocopy of a fax making a few corrections to Matthiessen's chapter on the Australian Outback; two separate faxes with evolutionary crane family trees; a map of Cranes in the Eastern Hemisphere, with Matthiessen's penning of a question about Zalong Nature Preserve; and a 1996 letter from the International Crane Foundation, conveying the survey and conservation plan and setting up an Internet Directory of Crane Experts.
Leopold, Aldo and Meine, Curt. Marshland Elegy. Madison: Wisconsin Center for the Book (1999). First thus, with an interpretive essay by Curt Meine. Inscribed by Meine to Matthiessen, "in appreciation of all your work and words on behalf of cranes, and all other wild things and wild places." Oblong stapled wrappers. Many passages in the Leopold section marked by Matthiessen; one marked "book epigraph," but a different passage than this was used, as the epigraph to the foreword to Birds of Heaven provided by George Archibald and James Harris of the International Crane Federation.
More than two dozen printouts of paintings of cranes by Bateman, and two accompanying 2001 emails (from a Bateman representative to the printer?) explaining that the paintings are not yet finished, and that the scans yielded more contrast than Bateman's paintings.
Bateman, Robert. Birds. (Toronto): Penguin (2002). Paintings of birds (including cranes) by Bateman and with a foreword by Matthiessen, issued the year following their collaboration on Birds of Heaven. Inscribed by Bateman to Matthiessen and his wife, with warms wishes and with thanks to Peter "for your words and for our shared moments with birds!" Near fine in a near fine dust jacket.
[#031721]
SOLD
All books are first printings of first editions or first American editions unless otherwise noted.